Hydrogel tablets simplify and speed water purification
S. Himmelstein | October 11, 2021
Complex and energy-intensive water purification equipment is not widely available to provide potable water in resource-limited regions. A solution for these water-scarce areas might take the form of a multifunctional hydrogel that can rapidly process contaminated water.
Just one anti-bacterial hydrogel tablet can disinfect a liter of river water and render it suitable for drinking in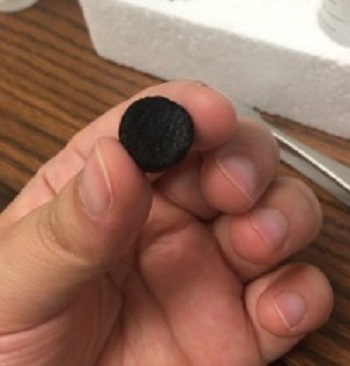 One hydrogel tablet can purify a liter of river water in an hour or less. Source: University of Texas at Austinan hour or less. The purifying material developed at the University of Texas at Austin also incorporates catechol-enabled molecular-level hydrogen peroxide generators and quinone-anchored activated carbon particles designed for effective water treatment. These components work in concert to neutralize bacteria at an efficiency rate of more than 99.999%. The tablets produce no noxious byproducts and may also prove of value in preventing biofouling problems that plague solar distillation systems.
The required materials are inexpensive and scaling up the synthesis processes is expected to be straightforward to achieve large-scale manufacturing. Research is underway to further improve the hydrogels described in Advanced Materials by increasing the different kinds of waterborne pathogens and viruses that can be neutralized.