Video: An environmentally sustainable dry-coating process for battery electrodes
S. Himmelstein | October 12, 2021
An energy-efficient and environmentally sustainable approach to the dry coating process required for battery electrode production has been developed at the Fraunhofer Institute for Material and Beam Technology (IWS), Germany. The DRYtraec system eliminates the need for toxic solvents and the use of energy-intensive drying machines in this manufacturing application.
The DRYtraec coating process uses similar raw materials as in the conventional wet slurry process used to layer coatings on metal foils but is based on a special binder in place of solvents. A dry mixture is fed into a gap between two rollers rotating in opposite directions, with one of the rollers turning faster than the other. This induces a shear force to ensure that the binder forms thread-like networks known as fibrils. The pressure and motion form a fine film on the faster-rotating roller, after which the film is transferred in a second calendar gap onto a current collector foil. Both sides are coated simultaneously, the resulting coil is cut to the required size and the individual parts are stacked as appropriate to produce the finished battery cell.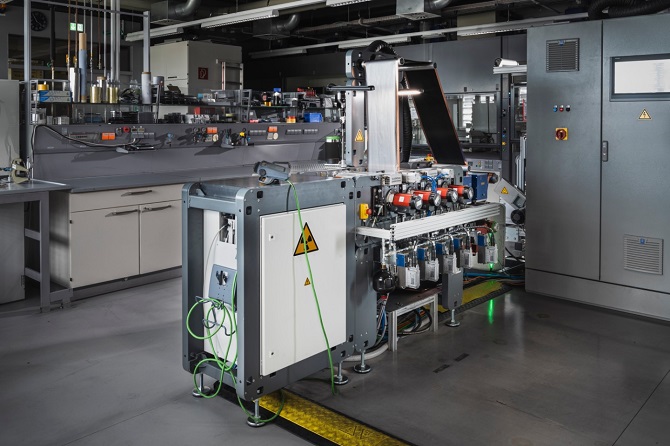 DRYtraec machines do not require long drying tracks and so occupy significantly less space than conventional battery electrode manufacturing systems. Source: Fraunhofer IWS
Prototype installations demonstrated the viability of manufacturing electrodes continuously, regardless of the type of battery. Several automobile and cell manufacturers have expressed interest in commissioning a number of pilot systems.