Video: Natural hazard notification system engineered for IAEA
S. Himmelstein | October 11, 2021
A system that will alert the International Atomic Energy Agency (IAEA) of floods, wildfires and other natural hazards that could potentially affect nuclear sites is under development in collaboration with the University of Hawaii's Pacific Disaster Center (PDC) and Tenefit, an internet application developer.
The External Events Notification System (EENS) is expected to launch in 2022 and will be based on PDC's DisasterAWARE system, a multi-hazard monitoring and early warning platform. The system will provide the IAEA access to hazard and impact information for timely reaction to events that could threaten the safety of nuclear facilities.
A DisasterAWARE module will feed the alert system in real time and monitor the globe for hazards that could impact nuclear facilities. An Event Damage Forecast module, which will receive information from the alert system, will produce a preliminary estimate of the impact on nuclear facilities and populated areas. The result of these operations will be a damage forecast report sent to the IAEA's Incident and Emergency Center (IEC) within 30 minutes. This office is the global focal point for international emergency preparedness, communication and response to nuclear and radiological incidents and emergencies.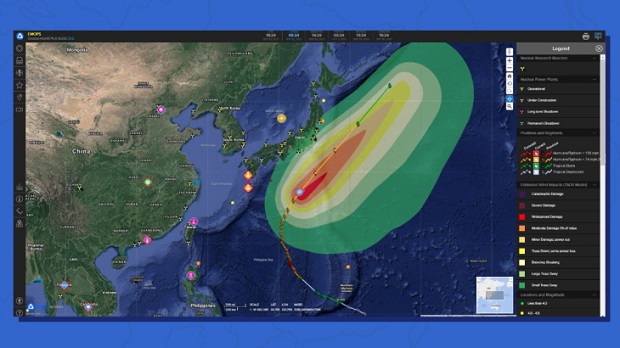 EENS will be based on the DisasterAWARE system, a multi-hazard monitoring and early warning platform. Source: PDC
The EENS report will include a map and data sheet, describing characteristics of the hazard. In the case of a tsunami, for example, the report will include a propagation map, source of the tsunami and estimated arrival time to nuclear installation sites.