Video: Water pollutants nabbed by nanojars
S. Himmelstein | September 10, 2021
Nano-sized containers engineered by Western Michigan University researchers effectively extract carbon dioxide and toxic pollutants from water.
The nanojars are composed of multiple repeating units of a copper ion, a pyrazole group and a hydroxide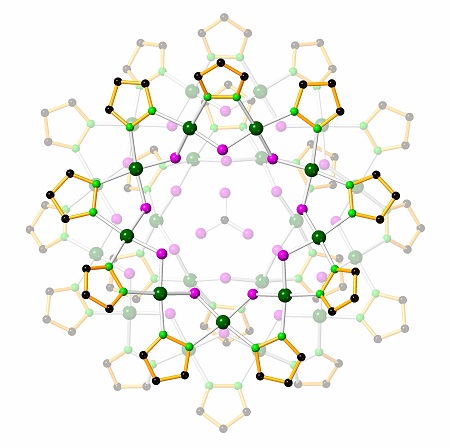 Molecular model of a nanojar with a carbonate ion trapped in the center. Source: Gellert Mezeisuspended in an organic solvent. The miniature structures split bicarbonate into carbonate and capture it, and immobilizes toxic anions for removal, disposal or recycling. Pollutant separation is accomplished by addition of a weak acid, which causes the nanojars to fall apart and release the anions for retrieval.
The structures can be tailored to target specific anions, as demonstrated by nanojars synthesized to bind preferentially to carbonates and sulfates. Laboratory-scale tests confirmed the capacity of the technology to extract chromate and arsenate to below U.S. Environmental Protection Agency-permitted levels for drinking water.
The researchers presented their results at the fall meeting of the American Chemical Society.