Study: Environmental impacts of bottled vs tap water
S. Himmelstein | September 08, 2021
Which choice of potable water incurs the greatest health and environmental impacts — bottled water or municipal supply? Researchers in Spain sought to determine the impacts of bottled and tap water use in Barcelona, a city selected due to the robustness of available data.
The methodology combined life cycle assessment and health impact assessment in the same analysis to estimate the damage to ecosystems and to resource availability as well as indirect impacts in human health derived from the production process of bottled and tap water. Data on water consumption patterns and on levels of chemical compounds in water supply were provided by the Barcelona Public Health Agency.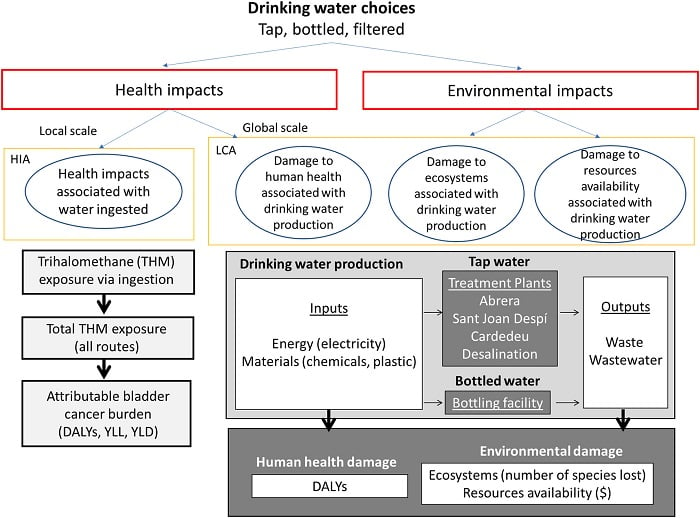 Conceptual model showing the integrated health impact assessment and life cycle assessment of drinking water consumption choices. Source: Cristina Villanueva et al.
Meeting drinking water needs for the city of Barcelona with bottled water was found to result in high ecosystem and resource damages compared to tap water. Under a scenario assuming a shift of the urban population to bottled water, the production required would take a toll of 1.43 species lost per year and cost of $83.9 million annually due to extraction of raw materials. The ecosystem impact is 1,400 times greater and the resource extraction cost is 3,500 times higher compared to a scenario where the whole population would shift to tap water.
According to researcher Cristina Villanueva of ISGlobal, "While it is true that tap water may contain trihalomethanes (THM) derived from the disinfection process and that THMs are associated with bladder cancer, our study shows that due to the high quality of the tap water in Barcelona, the risk for health is small, especially when we take into account the overall impacts of bottled water."
The researchers estimate that a complete shift to tap water would increase the overall number of years of life lost in the city of Barcelona to 309, or on average two hours of lost life expectancy if borne equally by all residents. Adding domestic filtration to tap water would reduce that risk considerably, lowering the total number of years of life lost to 36.
Scientists from ISGlobal, CIBER Epidemiología y Salud Pública (CIBERESP), Universitat Pompeu Fabra, Hospital del Mar Medical Research Institute and Universitat Politècnica de Catalunya Barcelona Tech participated in this study, which is published in Science of the Total Environment.