Autodesk Build is the solution of choice for construction teams
Amy J. Born | August 05, 2021
Since becoming available worldwide in February 2021, Autodesk Build project management and field execution solution of Autodesk Construction Cloud is in use on over 8,000 active customer projects, according to an announcement from Autodesk Inc. More and more construction teams are choosing Autodesk Build for increased quality, safety and cost management workflows. The program connects project data across the construction lifecycle in one solution that is easy to adopt, deploy and use.
Autodesk Build ties together features such as BIM 360 and PlanGrid with powerful new capabilities to create a cloud collaboration environment that allows information sharing and tightly controlled, highly configurable workflows. Collaborative workspaces for project, cost, quality and safety management, as well as field collaboration and project closeout, are among the features that Autodesk Build unites in a common data environment.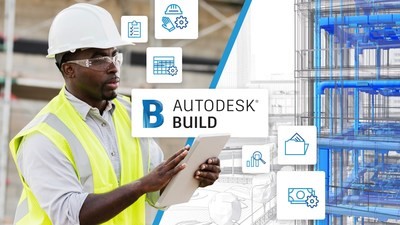 Industry leaders such as APTIM, Barton Malow and Boldt are turning to Autodesk Construction Cloud's project management and field execution solution to reduce risk, drive efficiencies and boost margins. Source: Autodesk Inc.
Contractors and owners around the world have connected their project teams, data and workflows with Autodesk Build, including:
- APTIM, an industrial construction, engineering and maintenance firm specializing in complex government, oil, gas, chemical and power projects
- Barton Malow, a general contractor building commercial, institutional and industrial projects across North America
- Boldt, a construction management firm building in the healthcare, industrial, commercial, food and beverage and renewable energy markets across the U.S.
- Burns & McDonnell, an engineering, construction and architecture firm working in the critical infrastructure sectors globally
- Polytek, a Belgian construction project management and engineering company building complex projects for pharmaceutical and food sector clients
- Pond, an engineering, architecture, planning and construction firm serving defense, government, corporate and private sector clients worldwide
- Robson Communities, a residential developer creating master-planned active adult resort communities across the southwestern U.S. region
Autodesk Build has an app specifically designed for mobile field collaboration. Teams can stay ahead of potential project risks by using the project management features in Autodesk Build and the PlanGrid Build app to connect and organize on RFIs, submit talks, meeting minutes and predictive insights. The cost management toolset enhances collaboration with project owners and suppliers for contract reviews, change orders and secure payments. All sensitive information is safeguarded.
"Managing information across various technology systems can be counterproductive, leaving our teams and data siloed and ultimately resulting in increased rework, delays and risks," said Werner Herbots, CEO of Polytek. "To deliver our projects with excellence, it's essential that we have a powerful construction management platform to stay connected and coordinated. Autodesk Build empowers us to manage all aspects of a project from one single location so our workflows for RFIs, submittals, change orders and other critical processes are all tightly connected, and the team can easily collaborate and track progress."
Emily Rech, program manager at Pond, added, "Cost management in Autodesk Build creates transparency by gathering financial activities in a central location to easily track status and see how a change order is progressing and impacting budget. With Autodesk Build, we can remove information silos and drive accountability across project teams."
Stakeholders on various construction teams are empowered to stay in sync, mitigate risks, and enable data-driven decision making with enhanced collaboration through features that focus on a single source of truth, connected data and team, and predictive analytics and insights.
"Bringing the entire project team together in Autodesk Build's common data environment keeps everyone on the same page to minimize errors and the need for anyone to wonder, 'Am I getting this right?'" said Jim Lynch, senior vice president and general manager, Autodesk Construction Solutions. "Significant adoption for Autodesk Build in the five short months since it's been available signals that teams across the industry are making strategic technology investments to maximize their ability to deliver high quality projects within budgets and timelines."