Watch: Wing sail design unfurled for maritime use
S. Himmelstein | June 14, 2021
A new approach to harnessing wind energy to help decarbonize the maritime sector is being advanced by the Michelin Group. The Wing Sail Mobility (WISAMO) Project is advancing an automated, telescopic and inflatable wing sail system to provide propulsion for commercial shipping and pleasure craft.
Deployment of the inflatable wing sail is expected to help operators reduce fuel consumption as well as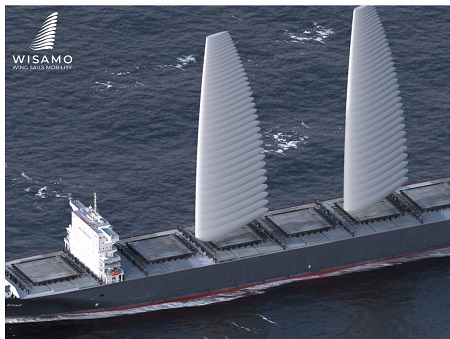 The inflatable wing sail is expected to reduce fuel usage and emissions. Source: Michelin Groupcarbon dioxide emissions. Depending on the type of vessel, route and weather conditions, Michelin said the system can improve a ship's fuel efficiency by up to 20%.
The WISAMO system can be installed on most merchant ships and leisure craft and is considered especially suitable for ro-ro ships, bulk carriers, and oil and gas tankers. The concept has been developed so that it can be fitted as original equipment on newbuilds or retrofitted on in-service vessels.
The first installation on a merchant ship is scheduled for 2022 when Michelin expects the sail to go into production following the completion of a trial phase.