Korean artificial sun sets plasma temperature record
S. Himmelstein | December 29, 2020
Fusion research has documented the attainment of plasmas at temperatures of 100 million degrees C or higher but no device has maintained this thermal regime for 10 seconds or longer. The copper-based magnets incorporated into these systems overheat and fail when a high electric current is administered to create a magnetic field strong enough to confine plasma. However, this time duration and temperature goal has been achieved in the Korea Superconducting Tokamak Advanced Research (KSTAR) device.
The superconducting fusion device at the Korea Institute of Fusion Energy and known as the Korean artificial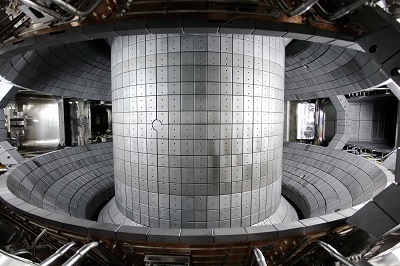 KSTAR achieved new plasma temperature and performance records. Source: Korea Institute of Fusion Energysun set the new world record in November 2020 by maintaining a high temperature plasma for 20 seconds with an ion temperature over 100 million ° C. Previously, researchers managed to operate the plasma at ultra-high temperatures for 1.5 seconds in 2018 and 8 seconds last March.
The new record, achieved in concert with scientists from Columbia University and Seoul National University, is ascribed to performance improvements in the internal transport barrier mode, a next generation plasma operating platform. The approach succeeded in maintaining the plasma state for a long period of time, overcoming existing limits of ultra-high-temperature plasma operation.
Project goals include operating the KSTAR plasma at this elevated temperature for 300 seconds by 2025. Researchers also plan to replace the carbon-based material in the deflector, which directs the thermal energy produced by the plasma to be sent to other areas of the tokamak, with tungsten.