One bacterial strain does it all during wastewater treatment
S. Himmelstein | December 09, 2020
The economic and environmental costs associated with wastewater treatment can be reduced by enlisting the aid of a bacterium recently discovered by National University of Singapore researchers. The Thauera species strain isolated from a treatment facility efficiently supports simultaneous nitrification and denitrification with phosphate removal.
Its use could eliminate the need for separate reactors to remove nitrogen and phosphorus from wastewater, reducing operating costs. The lower oxygen demand of the microbe relative to that of other biological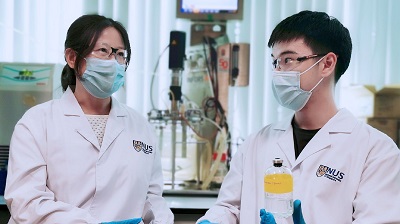 Researchers with a wastewater sample containing the newly isolated bacterium. Source: National University of Singaporenitrification/denitrification options can also cut process electricity consumption by 62%. By converting the ammonia present in effluents to gaseous nitrogen, the bacteria also prevent the formation and release of nitrous oxide, a greenhouse gas, common in conventional sewage treatment systems.
The newly identified strain was documented to remove ammonium, nitrite and nitrate at an average rate of 2.85 mg-nitrogen (N)/liter/hour, 1.98 mg-N/liter/hour and 2.42 mg-N/liter/hour, respectively. The Thauera bacteria also proved speedier than other biological treatment agents in removing both nitrogen and phosphorus. Batch testing, detection of functional genes and thermodynamic analysis suggested that nitrogen gas, with hydroxylamine produced as an intermediate, was the most likely end products of heterotrophic ammonium oxidation by this strain.
Demonstrating the treatment process at a larger scale and engineering a microbial mix to further advance treatment efficacy are the next research goals.