A greener alternative to plastic mulch
S. Himmelstein | October 05, 2020
Polyethylene film mulch has been an effective material for reducing evaporative water loss from agricultural land, but its use raises concerns about the introduction of microplastics in food chains and soils. University of Nevada researchers have developed a soybean oil-coated sand alternative as a more environmentally sustainable tool for water conservation.
A mixture of equal volumes of sand and oil is heated for about an hour, allowed to cool, washed with water and then dried. The process partially polymerizes the oil, which forms a coating around individual sand particles.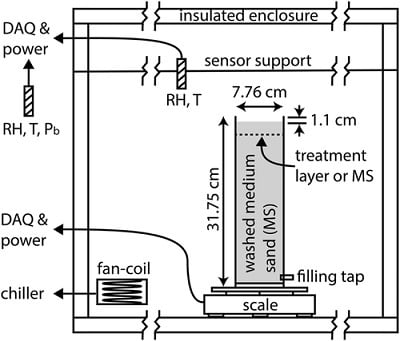 Evaporation experiments placed five test columns inside a five-sided enclosure with relative humidity, temperature and barometric pressure sensors. Source: Jesse Lee Barnes and Michael John Nicholl/University of Nevada
A layer of the oil-coated sand was placed on top of different types of soil contained within vertical sections of PVC pipe, after which the soils were saturated with water. Water was observed to easily flow through the sand and down into the soil, indicating that the material will not interfere with irrigation performance. The amount of water wicking upward through the soil columns was also reduced by oil-coated sand, further minimizing evaporation mechanisms. Sand-amended soil had 96% lower evaporative water less compared with control samples of bare soil in a 23-day test.
The hydrophobic mulch described in Vadose Zone Journal is expected to act as a selective barrier by limiting evaporative loss while permitting water and gas infiltration. However, the use of agricultural waste or other substrates instead of sand will lower the cost of deploying this option at the agricultural scale.