Drones Are Set to Revolutionize Electric Utility Inspections
Victor Rodgers | September 24, 2015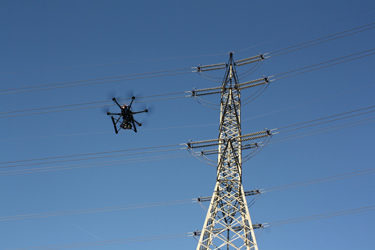 A six-rotor Electrabot for outdoor use can withstand 35 mph wind gusts. All images: United Aerobotics
Drones have caught our attention. From offering personal surveillance to filming breaking news and even delivering small packages, this emerging technology captures the imagination.
"Drone" is a slang term—the Federal Aviation Administration (FAA) refers to these craft as "unmanned aerial systems" or UAS. Although UASs have been in use for decades, recent technological innovations and FAA approvals have greatly enhanced their capabilities and ability to deliver commercial value.
They even are transforming how utility companies do business by enabling engineers to perform inspections more efficiently and at lower cost. A simple remote-controlled helicopter furnished with cameras, thermal imaging, self-stabilization and full illumination can fly in and out of harsh conditions and reach locations that either are inaccessible by humans or require costly scaffolding that can be time-consuming to assemble.
Game Changers
Along with recent FAA regulatory action and advancements in battery life, composite materials and remote material thickness testing capabilities, drones are establishing themselves as utility inspection "game changers."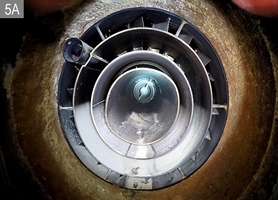 A drone identified an alignment issue within a boiler coal burner during a forced outage. The issue would not have been identified otherwise and was corrected before returning the unit to service. Traditional coal-fired utility boiler inspections require plant personnel to enter through small manways after boiler internals have been made safe from high temperatures, falling slag and oxygen-compromised environments. In search of tube leaks, fouling patterns and burner irregularities (among other issues), inspectors enter these confined spaces and maneuver in and around tightly arranged, hot and ash-laden tubing ,while being exposed to fall hazards that may exceed 100 feet.
After initial inspections are complete, laborers must erect scaffolding to access further reaches of the boiler. Complete boiler scaffolding efforts may consume several days and cost hundreds of thousands of dollars. In contrast, emergency response time by a drone supplier may be on the order of 12-24 hours. At a total cost of roughly $10,000-$20,000—including mobilization and demobilization—drone inspections compare favorably with the cost and time involved for erecting scaffold or hanging sky climbers.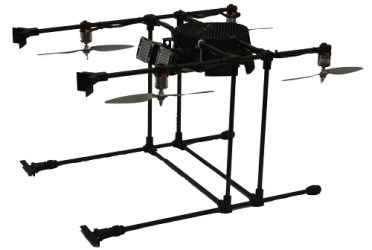 The four-rotor Magnabot can land and attach vertically on a boiler furnace wall and shut down its rotors. For example, United Aerobotics, a division of United Dynamics Advanced Technologies Corp. (UDC), has helped to pioneer the use of drones for boiler inspections and holds a patent specific to confined space inspections. Their trademarked Magnabot v1.0 was designed for these interior evaluations and features live streamed footage that enables real-time inspections and reporting. Designed as a four-rotor "bird," the craft can land and attach vertically on a boiler furnace wall and shut down its rotors to preserve battery life, even as it continues to operate its camera and lighting system within high-priority inspection areas.
In recent years, the company has visually inspected dozens of boilers to observe burners, furnace walls and steam circuit tubing. Although drones have yet to make repairs, they enable quick inspections of areas normally inaccessible during forced outages. On several occasions, problems were recognized that would not have been otherwise identified, allowing plant staff to launch immediate repairs or plan for them at a later date. Research is also underway that would permit drones to perform limited non-destructive examinations (NDE) such as tube thickness readings and surface void identification.
Proven success evaluating boilers begs the question "What else can be inspected?" Indoor use of drones, as within a building structure, is unregulated by the FAA. This means that internal piping hangers, boiler ductwork and tank internals can also be inspected. However, by law, any aircraft operating within national airspace requires a certificated and registered aircraft, a licensed pilot and operational approval. The FAA provides so-called Section 333 exemptions to commercial operators upon application and subsequent approval. To date, more than 1,400 commercial exemptions have been issued. Even so, drones that are granted Section 333 exemption cannot exceed an elevation of 400 feet beyond ground level.
This six-rotor machine comes equipped with a zoom-capable high-definition camera. United Aerobatics have recently obtained FAA Section 333 exemption and is now able to perform drone inspections outside to include power lines, conveyor structures, cooling towers, chimneys and wind turbines to name a few. For outdoor inspections, their Electrabot v1.0 is akin to the Magnabot, but on steroids. Larger and heavier than its kid brother, this six-rotor machine comes equipped with a zoom-capable high-definition camera permitting high-megapixel still shots and high-definition 1080p video capability. A gimbal holds and balances the camera irrespective of the drone's position. The Electrabot's design enables flight in wind gusts up to 35 mph and the craft is armed with altitude control, allowing independent GPS control to steady the machine within a locked position. The Electrabot also features 360-degree camera rotation capability. It promises great savings to the end user.
For example, take high-voltage transmission line inspections. Once a dangerous and time-consuming task that relied on specially trained workers at dangerous elevations who worked among live lines energized with thousands of volts of electricity, the Electrabot now performs similar tasks at lower cost and, most importantly, with negligible risk to human life.
Time is of the essence for electric utilities as they schedule outages to minimize the cost of replacement power. Add to this, the budgetary pressures that exist on conventional coal-fired power plants and operators have a recipe for innovative solutions. Completing the most amount of work within the shortest period of time has been the key to success. Drones provide process efficiencies at multiple levels. Compared to alternative strategies, it is increasingly easy to understand why many are excited by the innovation that is being delivered by drones.