App helps college students manage eating disorders
Siobhan Treacy | September 01, 2020
Researchers from the Washington University School of Medicine created a phone app to help college students monitor and receive treatment for eating disorders. According to the team, 13% of college-aged women and 3.6% of college-aged men have an eating disorder, but only 20% actually receive treatment. The team teamed up with a private company, Lantern, to develop the phone-based therapy app.
College students don't have the time to keep up with traditional therapy methods and colleges are not always well equipped with proper mental health services. The new phone-based app delivers a form of cognitive-behavioral therapy to help overcome and treat eating disorders within the student's schedule.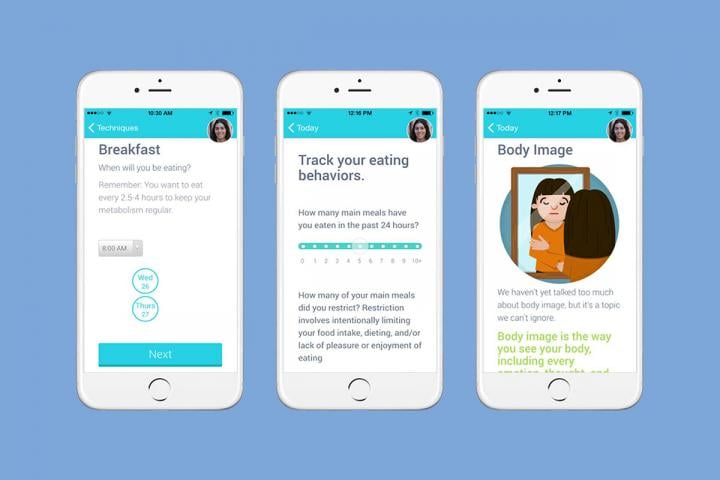 Shown are examples of how participants engage with the app.Source: Washington University Center for Healthy Weight and Wellness
Before the study, participants completed a questionnaire were evaluated if they are at risk for an eating disorder or bulimia nervosa. They did not include anorexia because those patients would benefit from a different kind of treatment.
To gather the participants, the team screened 4,894 women from 27 U.S. colleges. Of those women, 914 were eligible for the study and 690 agreed to participate.
Participants were randomly assigned to receive cognitive behavioral therapy through the mobile app or typical care through their college's counseling services. Of the 690, 385 participants were randomly chosen to use the phone app therapy and 305 were assigned to the standard care.
Women in the app group had access to content that was designed to help, challenge and change the unhelpful ways of thinking and behaving that are associated with an eating disorder. Along with the app, participants also had access to a coach that sent texts to help the participants stay motivated and use concepts from the app in their daily life.
App therapy was broken into a series of 40 10-minute long therapy sessions. The team found that a large number of smaller sessions would increase user engagement. App users had access to a phone call with therapy coaches at the start and the end of the study.
Over three-quarters (83%) of participants who used the app completed at least some of the program while only 28% of participants assigned to the usual care reported receiving treatment. On average, those who used the app completed at least a third of the app-based therapy and showed signs of improvement during the follow-up interview. Women who used the app saw improvements in depressions and anxiety that accompanies eating disorders.
Women reported that the app reduced their symptoms. They were able to engage with therapy on their own schedule, which encouraged them to attend sessions. Students were more likely to use the app than pursue therapy and follow up with in-person counseling.
This study was published in JAMA Network Open.