Chain design minimizes motorcycle maintenance needs
Engineering360 News Desk | September 01, 2020
A maintenance-free motorcycle chain is now available for the BMW Motorrad now offers a maintenance-free chain. The design of the M Endurance chain eliminates the need for lubrication or periodic re-tensioning.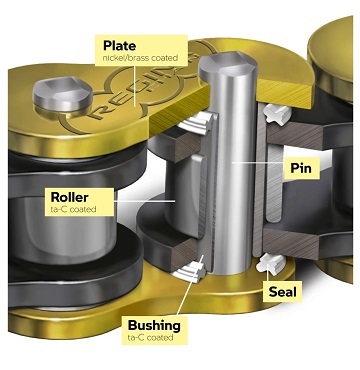 Source: BMW GroupA resident permanent lubricant filling between the rollers and pins, enclosed by X-rings, obviates the need for lubricant addition. An industrial diamond coating applied to the rollers is characterized by extreme hardness and resistance and offers a reduced friction coefficient coefficient where the roller interfaces with the sprocket teeth.
With excellent dry lubrication properties and the elimination of wear, the tetrahedral amorphous carbon coated rollers of the M Endurance chain offer maintenance comfort equivalent to that of a shaft drive motorcycle. This includes all the cleaning work that is unavoidable with a conventional chain due to splashed lubricant.
The M Endurance chain in 525 pitch is now available initially for the two 4-cylinder models BMW S 1000 RR and S 1000 XR. The M Endurance chain is available as accessory or directly from the factory as an option.