Watch: Solar-powered stratospheric telecommunications platform completes more test flights
S. Himmelstein | August 05, 2020
The solar-powered high-altitude platform system (HAPS) Sunglider aircraft advanced in a joint effort between HAPSMobile, a subsidiary of Japanese firm Softbank, and aircraft systems developer AeroVironment, recently completed a fourth round of flight tests. The unmanned aircraft designed for stratospheric telecommunications platforms maintained higher altitudes than previously reached and for longer flight duration at Spaceport America in New Mexico.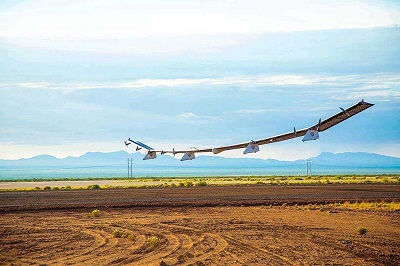 Sunglider in flight at Spaceport America in New Mexico. Source: HAPSMobile
Sunglider is powered by solar panels spread out along its 78 m wings fitted with 10 propellers to reach a top speed of 110 km/h. The aircraft is designed to carry telecommunications payloads to the stratosphere and provide connectivity between devices as far as 700 km (435 miles) apart. A fleet of Sungliders is envisioned to form networks that cover larger areas and serve populations in developing regions.
In another recent development, the Rwanda Ministry of Information Technology and Communication and Innovation and HAPSMobile signed a Memorandum of Understanding under which both parties will research the use of HAPS to provide mobile internet connectivity in Rwanda. Demonstration flights will test the potential of the solar-powered unmanned aircraft system to provide 4G/5G internet connectivity.