Pump manufacturers join others on the impeller.net PumpSelector
Engineering360 News Desk | July 28, 2020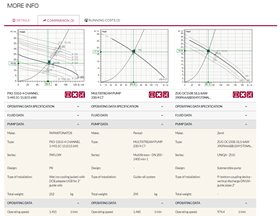 The PumpSelector tool offers direct comparison of pump models. Source: VSX-Vogel SoftwareProducts from pump manufacturers Papantonatos and Pentair are now available via the pump selection tool on the impeller.net platform, thereby extending the portfolio range of pumps and lifting units for sewage technology and drainage as well as products for water supply.
The PumpSelector tool on impeller.net brings pump buyers, manufacturers and sellers together on the platform where they can enter the operating data and keywords for the area of application or the design they seek and are shown appropriate pumps for such applications according to their specifications. The pump offerings can be sorted and filtered according to various criteria, including material design or connection. Additionally, The pump models can be directly compared. Once the appropriate pump has been located, the system immediately checks whether the product is available in one of the connected web shops.
Papantonatos extends the available range to include submersible pumps, including its complete line of wastewater pumps, construction pumps for corrosive and abrasive applications as well as borehole pumps for raw water supply, irrigation systems, groundwater lowering, pressure boosting and various industrial applications.
Meanwhile, Pentair Jung Pumpen offers sewage and drainage pumps as well as Pentair Sta-Rite's fresh water pumps. Jung Pumpen's range of pumps extends from small lifting systems to large pumps for use in municipal wastewater disposal. The pumps from Pentair Sta-Rite cover a range of applications from fresh water supply in domestic and municipal applications to fire fighting.
Thanks to the new additions, the impeller.net PumpSelector offers an even more efficient way for tradesmen and planners in particular to search for and find products that match their needs.
"We are very pleased to have won Pentair and Papantonatos as two pump manufacturers for impeller.net, both known in the market for their high-quality products and excellent service. This expands the platform to a unique range of brands, especially in the fields of wastewater and sewage technology as well as water supply applications. As a result, users will be able to compare different options for their application across manufacturers and select the best pump for their needs," said Jens-Uwe Vogel, managing director of VSX-Vogel Software, the platform's operators. "We will continuously expand the range of available manufacturers in order to provide users with an increasingly efficient tool. In addition, our developers are constantly working on expanding and optimizing the portal to ensure that it offers users maximum benefit."
The PumpSelector can be accessed via the impeller.net platform.