Fraunhofer team develops cleaning robot for food production
Marie Donlon | July 01, 2020
Researchers from the Fraunhofer Institute for Process Engineering and Packaging (IVV) in Dresden have developed a mobile cleaning robot for the food manufacturing industry.
The so-called Mobile Cleaning Device 4.0 (MCD) relies on a series of sensors and artificial intelligence (AI) to assess the cleanliness of conditions, from flooring to equipment, within the food manufacturing space. The sensors in combination with the AI determine the degree of fouling and biofilm deposited on equipment and other surfaces and adjusts the amount of pressure applied to the surface and the amount of cleaning solution needed to disinfect the surface.
To do this, the robots include a detector that relies on ultraviolet (UV) light to identify fluorescent particles from sources including fats, oils and proteins, and dispenses the appropriate amount of cleaning agent and water based on predetermined parameters.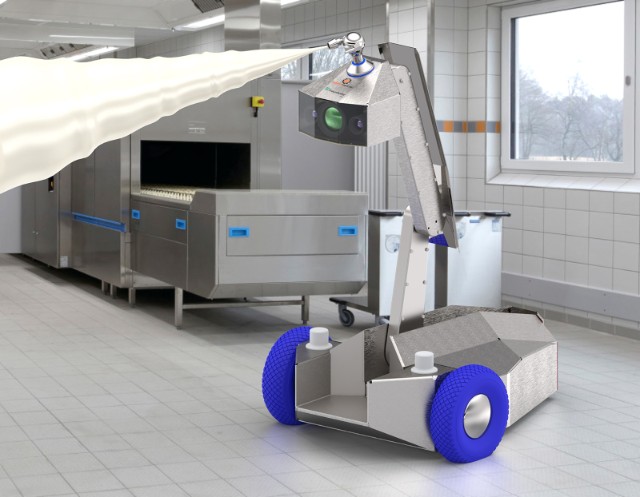 Source: Fraunhofer Institute for Process Engineering and PackagingThe autonomous MCD features two variants, the first of which travels the production line via conveyor belt, cleaning the inner components of the manufacturing equipment. Meanwhile, the second variant of the MCD cleans floors, walls, ceilings and the outside components of the manufacturing equipment.
According to its developers, the hygiene demands of food manufacturing can be met by the robot without the concerns plaguing human cleaners in that the work can tend to be error prone, time consuming and with results that are not always reproducible. Additionally, the robot cleaning system also prevents the waste of cleaning agents by precisely applying only the amount necessary to clean equipment surfaces.
In addition to the food manufacturing industry, the MCD developers believe that the robots could also be appropriate for the automotive, pharmaceutical, medical engineering, cosmetics and agricultural industries.