Online toolkit for climate change scenario analysis
S. Himmelstein | June 03, 2020
An interactive online tool developed as part of the European SENSES (climate change ScENario ServicES) project provides a platform for policy makers and citizen scientists to analyze different climate scenarios.
The SENSES toolkit includes climate change projections to generate temperature, precipitation and other data on how the climate system would evolve for specific preconditions, such as level of carbon dioxide concentration. Climate impact scenarios are included as input for climate impact models to calculate potential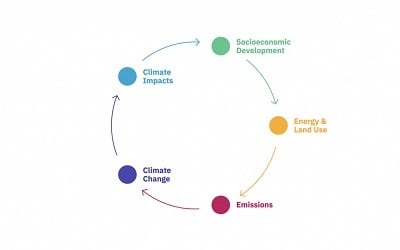 The toolkit is designed to make research on climate change scenarios more accessible. Source: Fachhochschule Potsdameffects on water, agriculture, fisheries and other sectors. Possible solutions to contain climate change are addressed in mitigation scenarios that delineate future trends in the development of energy, economy, land use and emissions in the world.
Additional modules focus on risks associated with investing in the fossil fuel sector, how national decarbonization plans for 2030 relate to long-term targets established by the 2015 Paris Agreement, and how CO2 emissions in the energy sector can be reduced by a transition toward renewable energy and electrification.
The platform is the result of a collaborative project of the Potsdam Institute for Climate Impact Research (Germany), Fachhochschule Potsdam (Germany), International Institute for Applied Systems Analysis (Austria), Wageningen University (the Netherlands) and Stockholm Environment Institute.