Reusable sponge efficiently mops up oil spills
S. Himmelstein | May 29, 2020
An environmentally sustainable oil spill cleanup solution has been devised at Northwestern University in the form of an oleophilic, hydrophobic and magnetic sponge. The material can selectively absorb more than 30 times its weight in oil due to the application of a nanocomposite coating and use of a magnetic, water-repelling and oil-attracting carbon-based substrate.
Oil spills themselves exert devastating impacts on freshwater and marine ecosystems, and conventional cleanup options can be equally detrimental to biota. Oil burning and chemical dispersants adversely affect biota while oil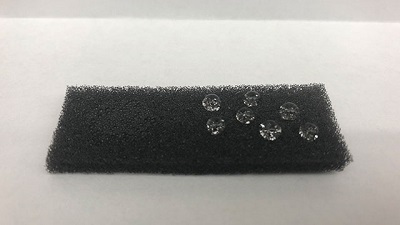 The sponge absorbs oil (on the left) and resists water (on the right). Source: Northwestern University skimmers are inefficient. The improved sponge introduces no additional agents into the ecosystem as its nanoporous 3D structure selectively interacts with and binds to oil molecules. The captured oil is stored in the reusable material until it is simply squeezed out.
When tested with different types of crude oil and at different salinity and pH levels, the sponge consistently absorbed up to 30 times its weight in oil, leaving the water behind. The researchers are tailoring the coating and synthesizing new sponge materials as remediation platforms that can selectively adsorb volatile organic compounds, nutrients and other pollutants from water.