Setting a trap for PFAS water pollutants
S. Himmelstein | May 28, 2020
Per- and polyfluoroalkyl chemicals (PFASs) used in food packaging, nonstick coatings and other products have emerged as ubiquitous and persistent water pollutants. As PFASs can exert adverse health effects after ingestion, University at Buffalo researchers have set a molecular trap to help keep these toxic chemicals out of potable water supplies.
The self-assembling tetrahedral molecular cages composed of iron, molybdenum and phosphorus were demonstrated to capture PFAS compounds with chains of six or more fluorinated carbon atoms, including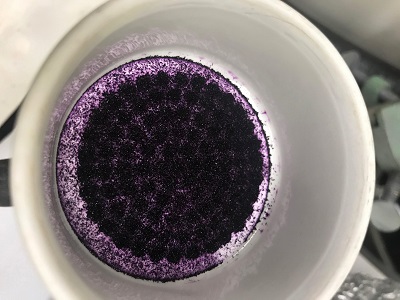 The self-assembling molecular traps, with purple microcrystals, interact with certain PFAS. Source: Heshali Welgamaperfluorocarboxylic acids, sulfonic acids and fluorotelomers. The target chemicals were observed to adhere to the outside of the cages, and the researchers are fine-tuning the metallacage synthesis process to improve pollutant removal capacity and to expand the types of contaminants trapped.
"I'm hopeful that the molecular traps can be designed to potentially capture the most highly water soluble PFAS that typically escape conventional water treatment technologies," said Diana Aga, Henry M. Woodburn Professor of Chemistry. "There are already many sorbents in use, such as activated carbon, that interact with PFAS. However, activated carbon does not have building blocks or pores that can be easily tuned — and this is the beauty of the metallacages."