Flexible Ethernet cables for e-chains with CC-Link IE field certificate
Engineering360 News Desk | April 10, 2020
Igus has developed two highly flexible Ethernet cables for use in energy chains that have been tested and certified for use in North American markets.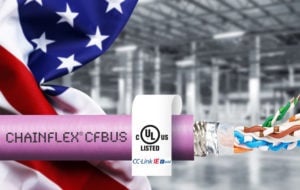 Source: IgusThe CFBUS.045 and CFBUS.049 cables are essential components for the implementation of Industry 4.0 in automation. The cables have UL certification for North American markets and received the certificate for CC-Link IE protocols for the Asiatic region.
Industrial Ethernet is the future step for the digitized factory of tomorrow, but many studies show that the world of fieldbus is stagnating as the number of Ethernet nodes is increasing. Users are choosing CC-Link IE (Industrial Ethernet) technologies since these systems offer seamless data exchange on all levels of a production facility, from the highest control level to the manufacturing levels.
The CC-Link IE controller network has been designed for the rapid exchange of large amounts of data in a factory or production plant; the CC-Link IE field network has been optimized for connection of a wide range of devices and their connection to other existing networks such as the standard CC-Link. These increasing requirements for IE communication nodes call for a secure and long-lasting connection between the components to meet the continuously growing amounts of data being transferred. The CAT5e and CAT6 chainflex Ethernet cables are exactly the right choices to ensure this communication. With over 76 million strokes and a bend radius of 9.5 x d in test 3089, they clearly demonstrated exceptionally long service life in the Igus test laboratory.