These nukes won't close after all, owner says
David Wagman | March 16, 2020
Energy Harbor Corp. told regional transmission organization PJM that it will rescind its March 2018 decision to close its nuclear generating station in Shippingport, Pennsylvania.
Energy Harbor said it is rescinding deactivation notices for the Beaver Valley Power Station, which operates two units with a total capacity of 1,872 MW. Both units were scheduled for deactivation in 2021.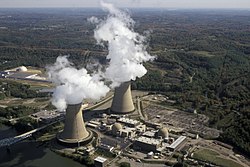 The Beaver Valley nuclear power station in Shippingport, Pennsylvania. Source: NRCEnergy Harbor previously operated as FirstEnergy Corp. and emerged in late February from Chapter 11 bankruptcy reorganization and adopted the new name.
The company said it reversed its decision to close the nuclear power plants after Pennsylvania announced plans to join the Regional Greenhouse Gas Initiative (RGGI) in early 2022. The company said it would revisit deactivation if RGGI does not come to fruition "as expected." RGGI is expected to offer an incentive for zero-emission generating resources such as nuclear.
Executives with the former FirstEnergy had complained that PJM market rules placed its nuclear assets at a competitive disadvantage even though they operate with no air emissions. Permanent disposal of radioactive waste material remains a challenge for all commercial reactors operating in the U.S.
Energy Harbor said that the Nuclear Regulatory Commission was verbally notified of the deactivation rescissions and that written notification also will be made.
Former FirstEnergy slated multiple nuclear reactors in Ohio and Pennsylvania for deactivation. They included Davis-Besse Nuclear Power Station, Oak Harbor, Ohio (908 MW), May 2020; and Perry Nuclear Power Plant, Perry, Ohio (1,281 MW), May 2021.
The Beaver Valley Power Station includes one 939 MW unit that was scheduled to close in May 2021 and one 933 MW unit that was to have closed in October 2021.