FirstEnergy Just Raised the Stakes in its Poker Game Over Power Plants
David Wagman | August 30, 2018
FirstEnergy Solutions Corp. says that it told PJM Interconnection, a regional transmission organization, that it plans to deactivate four fossil-fired power plants in 2021 and 2022.
The power generator says it plans to close the plants due to "a market environment that fails to adequately compensate generators for the resiliency and fuel-security attributes that the plants provide."
The plants represent some 4,017 megawatts (MW) of generating capacity. The plants, along with their planned deactivation date, include:
Eastlake 6, Eastlake, Ohio (24 MW, coal), June 1, 2021
Bruce Mansfield Units 1-3, Shippingport, Penn. (2,490 MW, coal), June 1, 2021
W.H. Sammis Diesel, Stratton, Ohio (13 MW, diesel oil), June 1, 2021
W.H. Sammis Units 5-7, Stratton, Ohio (1,490 MW, coal), June 1, 2022
The company's move increases its ante in a dispute with PJM that has brought in both the White House and Energy Secretary Rick Perry. The argument focuses on market rules that the utility says disadvantage its big fossil- and uranium-fired power plants. (Read "Nukes Took It on the Chin in PJM Auction, Raising the Stakes for Their Survival.")
Chapter 11 Filing
FirstEnergy Solutions (FES), the competitive subsidiary of FirstEnergy, along with all FES subsidiaries and FirstEnergy Nuclear Operating Co. (FENOC), made a voluntary filing under Chapter 11 of the United States Bankruptcy Code on March 31.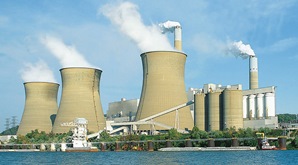 The 2,500 MW Bruce Mansfield station in Pennsylvania could close in 2021. Credit: FESTwo days earlier, FES had asked Perry for an emergency order directing PJM to secure long-term capacity from FES plants, among others. The goal was to compensate their owners "for the full benefits they provide to energy markets and the public at large, including fuel security and diversity."
News reports quoted Vincent Duane, PJM's senior vice president and general counsel, as saying, "We repeatedly disagree with them on the fundamental assertion that there is an emergency." And the American Petroleum Institute — whose members include natural gas producers — said at the time that, "FirstEnergy's latest attempt to spread a false narrative surrounding the reliability of the electric grid is nothing more than a ruse that will force Main Street consumers to pay higher prices."
In January, the Federal Energy Regulatory Commission (FERC) set aside a proposal by Perry that would have provided billions of dollars in subsidies for coal and nuclear power plants in a bid to enhance grid resiliency. In its decision, FERC said it could find no evidence under the Federal Power Act to prove that existing tariffs were either unjust or unreasonable.
At the time, FERC Commissioner Richard Glick wrote, "The Proposed Rule had little, if anything, to do with resilience, and was instead aimed at subsidizing certain uncompetitive electric generation technologies."
Nuclear Units to Close
FirstEnergy Solutions says that its latest plant closures are subject to review by PJM. If PJM determines that one or more of these units may be needed for grid reliability, the company says that it will provide information and estimates of the costs and timing to keep some or all of the units open.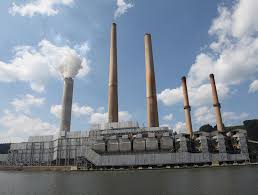 Units at the W.H. Sammis plant in Ohio could close in 2022. Credit: FESFES also asked for exemptions from PJM's "must-offer" rules for the four fossil-fired plants and for three nuclear generating plants, whose planned deactivations were announced in March. (Read "Nukes Can Close, Says Grid Committee.")
Under must-offer rules, generating companies must make their plants' capacity available to the grid in regular capacity auctions unless granted an exception. The annual auctions are held to secure capacity three years in advance. FES is seeking exemptions from auctions covering the 2022-23 delivery year and beyond.
The FES nuclear plants set for deactivation include:
Davis-Besse Nuclear Power Station, Oak Harbor, Ohio (908 MW), May 2020
Beaver Valley Power Station, Shippingport, Penn., Unit 1 (939 MW) May 2021 and Unit 2 (933 MW) October 2021
Perry Nuclear Power Plant, Perry, Ohio (1,281 MW), May 2021
"As with nuclear, our fossil-fueled plants face the insurmountable challenge of a market that does not sufficiently value their contribution to the security and flexibility of our power system," said Don Moul, president of FES Generation Companies and Chief Nuclear Officer, in a statement. He says that the market fails to recognize the on-site fuel storage capability of coal, "which increases the resilience of the grid."
The power generator says that "depending on the timing of any federal policy action," the plant closure decisions could be "reversed or postponed."