Watch how a sweat sensor monitors stress levels
S. Himmelstein | March 13, 2020
The ability to accurately quantify a person's stress level advances with the development of a wireless sweat sensor. The device designed at California Institute of Technology precisely detects levels of cortisol, a natural compound considered the body's stress hormone.
The graphene-based sensor is fabricated by laser etching a plastic sheet to form a 3D graphene structure with tiny pores in which sweat can be analyzed. The pores cover a large surface area, making the device sufficiently sensitive to detect compounds present in very small amounts in sweat. These structures are coupled with a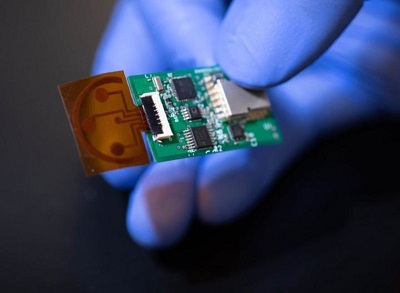 The wireless sensor accurately detects levels of the stress hormone cortisol in sweat. Source: California Institute of Technologycortisol-sensitive antibody for accurate monitoring of the compound. Unlike blood tests conducted to determine cortisol levels, monitoring with the sensor is noninvasive and results are returned in minutes.
The sensor was used to gauge the daily fluctuation of cortisol by measuring a volunteer's sweat over a six-day period. Peak levels were accurately documented as the subject woke up in the morning, and levels were shown to decline throughout the day as expected in a healthy individual.
Changes in cortisol levels were also recorded in response to an acute stressor by having subjects perform aerobic exercises or submerge their hands in ice water. As reported in Matter, the sensors detected rising cortisol levels immediately in both tests.
The device might be applied to monitor conditions such as anxiety, post-traumatic stress disorder and depression, all of which are correlated with changes in cortisol levels. For extraterrestrial use, the sensor is being incorporated into a system for monitoring the stress and anxiety of NASA astronauts.