Chevron approves $5.7 billion high-pressure deepwater project
David Wagman | December 12, 2019
Chevron Corp. said it sanctioned the deepwater high-pressure Anchor project in the U.S. Gulf of Mexico.
New technology to be deployed there is expected to withstand up to 20,000 pounds per square inch (psi) of pressure, enabling future access to other high-pressure resources in the Gulf.
Deepwater wells typically operate at a limit of 15,000 psi, but Anchor is at the 20,000 psi level. Two technologies for the high-pressure reservoirs are thicker steel to be used in construction and equipment to handle higher hook loads.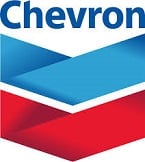 Chevron said that it has reduced development costs by nearly a third compared to its earlier generation of greenfield deepwater investments. The company is cutting costs by standardizing equipment, using fit-for-purpose surface facilities and adopting so-called "drill-to-fill" strategies. Chevron said that for the Anchor project, it streamlined front-end engineering and design and is relying more on industry standards in its designs and equipment.
In related news, Chevron also announced the write-down of between $10 billion and $11 billion for the fourth quarter as the company revalued some of its assets, including shale gas production in Appalachia and deep-water projects in the Gulf of Mexico. The company indicated it could sell some of its natural gas projects as prices for the commodity remain challenged by oversupply.
The nation's second-largest oil company also revealed a $20 billion capital spending budget for 2020.
Seven wells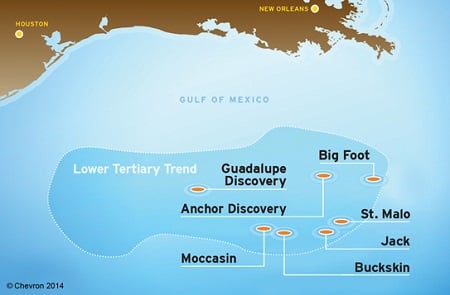 Location of the Anchor field. Source: ChevronThe Anchor Field is located in the Green Canyon area, some 140 miles (225 km) off the coast of Louisiana, in water depths of around 5,000 ft (1,524 m). Initial development will require an investment on the order of $5.7 billion. Stage 1 consists of a seven-well subsea development and semi-submersible floating production units. First oil is expected in 2024.
The planned facility has a design capacity of 75,000 barrels of crude oil and 28 million ft3 of natural gas per day. Total potentially recoverable oil-equivalent resources are estimated to exceed 440 million barrels. Chevron, through its Chevron U.S.A. Inc. unit, is operator and holds a 62.86% working interest. Co-owner Total E&P USA, Inc. holds a 37.14% working interest.