Female African refugees learn to code for future success
Nancy Ordman | October 18, 2019
Study after study has taught us that there is no tool for development more effective than the education of girls and the empowerment of women. No other policy is as likely to raise economic productivity, lower infant and maternal mortality, or improve nutrition and promote health, including the prevention of HIV/AIDS. When women are fully involved, the benefits can be seen immediately: families are healthier; they are better fed; their income, savings, and reinvestment go up. And what is true of families is true of communities and, eventually, whole countries. Kofi Annan, former United Nations Secretary-General, addressing the International Women's Health Coalition, January 16, 2004.
Teaching refugee girls in Africa how to write computer code gives these young women a vital tool they can use to improve their own lives. They can also improve the lives of their fellow refugees across the globe.
The idea of teaching refugee girls to code has taken hold for two common reasons: increase the number of women, especially minority women, in STEM fields, and give these women the skills to get good jobs. A group of female students in northwestern Kenya's Kakuma refugee camp have higher ambitions: they dream of using their developing skills to interact with other refugee populations and work together to make refugees' lives better.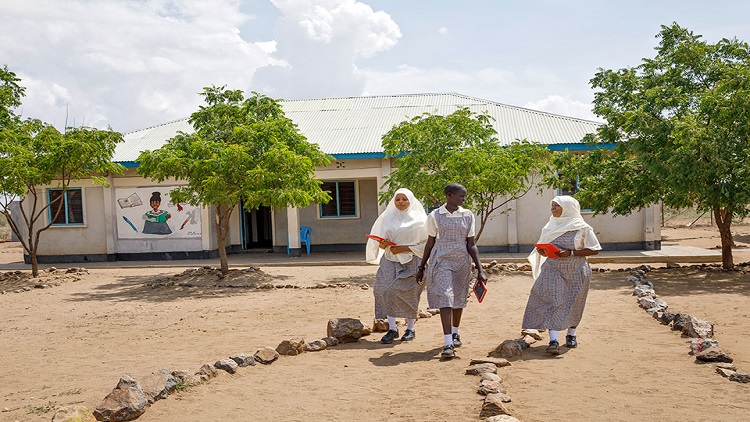 Students Umohoza Hurlarain, Nyamam Gai Gatluak, and Mumina Khalif on the grounds of the Angelina Jolie Primary School. Source: UN Women/Ryan Brown
The Kakuma refugee camp, established in 1992 under the auspices of the United Nations High Commission for Refugees (UNHCR). Given its proximity to South Sudan and Ethiopia and the ongoing strife in these countries, Kakuma has expanded several times and now houses over 191,000 refugees — nearly the equivalent population of Tallahassee, Florida.
And Kakuma, like a city, provides primary schools and limited secondary education to about 80,000 youngsters. Yet girls often miss out on school. Some are kept home to help care for their families. Others endure jeering as they walk to and from school.
The young coders attend Angelina Jolie Primary School, a boarding school that teaches 150 pupils and has been funded by its namesake actress since 2013. All students must pass a competitive entrance exam and live apart from their families. This separation is an important factor in student success, since they do not have to deal with distractions and chores that they face while living at home.
Most of the students at the school had never accessed the internet before matriculating, much less learned about writing code. Students in the Jolie school classes have coded computer games and web pages and are excited about where these coding skills can take them. Their ideas range far beyond Kakuma.
Umohoza Hurlarain talked about her "dream to create a social media platform for all different schools around the world — like Facebook — where students can share different ideas and experiences."
She also observed that some girls in the camp, who come from the Republic of Congo and Burundi, speak French and not the English used in camp schools. The lack of language skills usually relegates these potential students to elementary classes, despite their more advanced levels of education. Umohoza has an idea to create an app to teach these girls English, so they can join classes at the appropriate level of education.
Another goal for these girls is to show their fellow students that coding is not just for boys.
"Not many girls and women are in this field. It's dominated by men, but I would like to let girls know that they can do great things," said Nyamam Gai Gatulak.
Girls are coding all over Africa
The Kakuma program is one of several on the African continent with the same goal: to teach girls to code and thus empower them to rise above their desperate circumstances. Although these programs are not based in refugee camps, some provide training and services for young refugee women.