Surface-protective films in alternative energy
August 28, 2019
Sponsored Content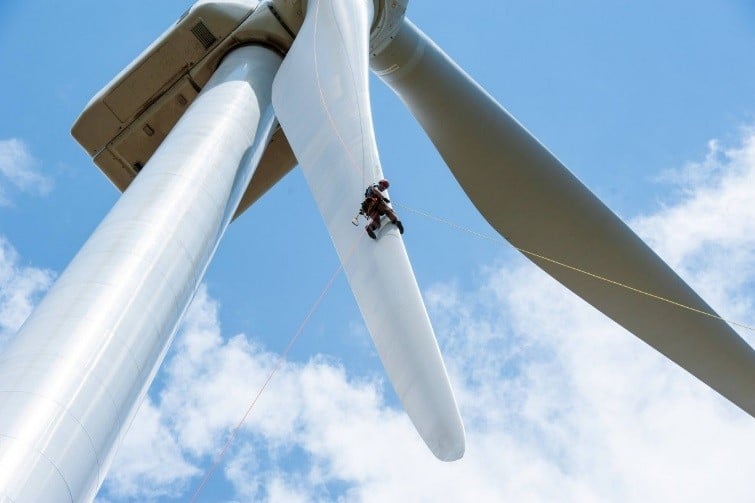 Figure 1. Inspection of leading edge of wind turbine blade. Source: U.S. DOE EEREHigh-durability, surface-protective films are a key technology in maintaining the performance, life and appearance of wind, solar, fuel cell and other alternative energy equipment that is exposed to weathering, dirt build-up and other sources of damage.
Wind turbine blade protection
In wind turbine blade applications, high-performance leading-edge protection (LEP) systems are critical in shielding the leading edge of aluminum or composite blades against environmental conditions.
According to the U.S. Department of Energy (DOE) Blade Reliability Collaborative, "Leading edge erosion is an emerging issue in wind turbine blade reliability, causing performance decreases and additional maintenance costs."
The severe surface roughness, due to erosion and insect accumulation, dramatically reduces performance. An in-depth study by the DOE Blade Reliability Collaborative indicated that a heavily eroded wind turbine blade can reduce annual energy production by up to 5% for a utility-scale wind turbine.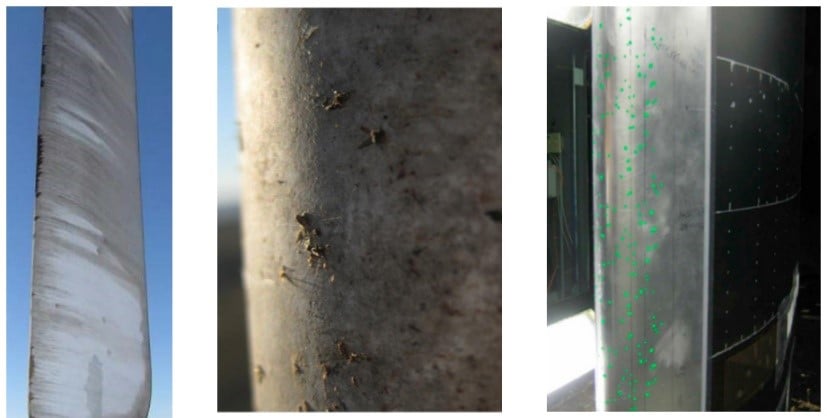 Figure 2. Example of a blade with severe leading edge erosion (left), a blade leading edge with observed field roughness (middle) and a wind tunnel model with distributed roughness elements (right). Source: U.S. DOE Blade Reliability CollaborativeResistance to rain erosion is one of the main features that surface-protective films must provide, especially in rapidly growing offshore applications. In the field, long turbine blades spinning at high speeds result in rain droplets impacting the leading edge at over 300 km/hour. Simulation tests in the lab use rain droplet impact speeds of 500 to 600 km/hour to accelerate the damage, which applies approximately three times the force compared to actual rain droplets. Eroded blades have reduced mass and altered geometry, which disturbs the aerodynamic flow and reduces energy production or power generation efficiency. Imperfections and distorted surface profiles change air flow, causing vibration and harmonics, which can impact the yaw system and gearbox. Yaw system and gearbox damage results in dramatically reduced efficiency and expensive repairs, especially in large blades. Impaired gearboxes and blades with damaged edges must be removed and repaired, resulting in extended and costly downtime. Wind turbine blade and rotor-failure events resulted in 13.2% unavailability, which is much higher than any other specific system components.
In addition, surface-protective films or coatings provide protection against weathering, abrasion and light impacts. Weathering is damage due to UV and oxidation attacking resin in a composite or film elastomer. Over time, the UV radiation in sunlight and oxidation break down bonds in a resin matrix, which degrades and eventually leads to blistering or cracks. The surface protection system must mitigate against the destructive effects of sand and dirt abrasion in land applications, especially in installations in deserts and on sand dunes.

Light impact from hail, sleet, birds and insects is another environmental condition that resilient urethane elastomer films can protect against. Bird and insect damage is a concern for installations located in migratory paths, where swarms of insects or bird flocks pass through. In fact, insects can halve wind-turbine power. Accumulation of matter from dirt, insects and bird droppings can also unbalance blades and reduce aerodynamic performance. A surface-protective film should also have high smoothness and self-cleaning attributes.
Finally, blades are often fabricated in two halves and joined with adhesive bonds along the leading and trailing edges. Leading-edge adhesive failure is a major blade-failure mode. The adhesive-bond systems typically utilize the same resins in the composite, with a different filler and additive so the adhesive does not have inherent erosion and weathering resistance. Surface-protective films help protect the bond from environmental damage.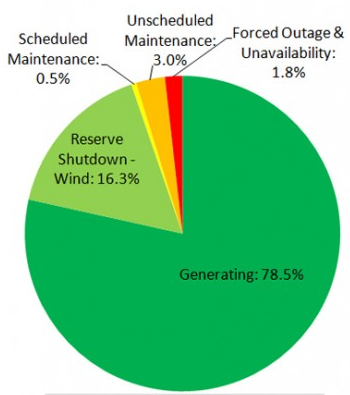 Figure 3. Unscheduled maintenance and forced outages reduce wind turbine generating capacity by 4.8%. Source: Sandia National Labs — CREW DatabaseLEP systems can consist of a protective film, sacrificial coating or a film-coating combination. A surface-protective film can be applied more quickly, under a wider range of field conditions, compared to a coating system. Surface-protective films typically utilize an erosion-, abrasion- and puncture-resistant polyurethane elastomer backing. Surface protection films are available in translucent and opaque versions. The translucent version allows visual inspection of underlying damage. The opaque films provide a visual gauge of wear and indicate when a film needs replacement. Surface-protective film may have less variability or higher quality that coatings because they are manufactured in a controlled factory setting. Surface-protective coating quality can vary due to fluctuations in applied coating thickness, cure time and temperature in the field. Gel coat-type protective coatings can be applied during blade molding, but gel coatings typically consist of the same resins as the polymer matrix, not impact-resistant polyurethane. In addition, impacts from high-velocity rain drops propagate shock waves, which tend to delaminate protective coatings at the coating-blade interface. Eventually, every surface protection system will require removal and replacement. Coating systems may require blasting with plastic, soda, walnut or dry ice media to remove the coating. Considering the quality, ease of application, consistency and replacement factors, surface-protective films are likely a better option compared to coatings and provide a higher total cost benefit in many applications.
PV or solar panel protection
Photovoltaic (PV) or solar panels also need environmental protection, but the requirements are different in these static, solid-state, alternative energy systems. Solar panel protective (SPP) systems provide resistance to weathering and rain, and also maintain a clean surface and reduce dirt build-up, which can block light and reduce conversion efficiency. In addition, SPP systems must be transparent with a high percentage of transmission values for the wavelengths absorbed and converted by the PV cells.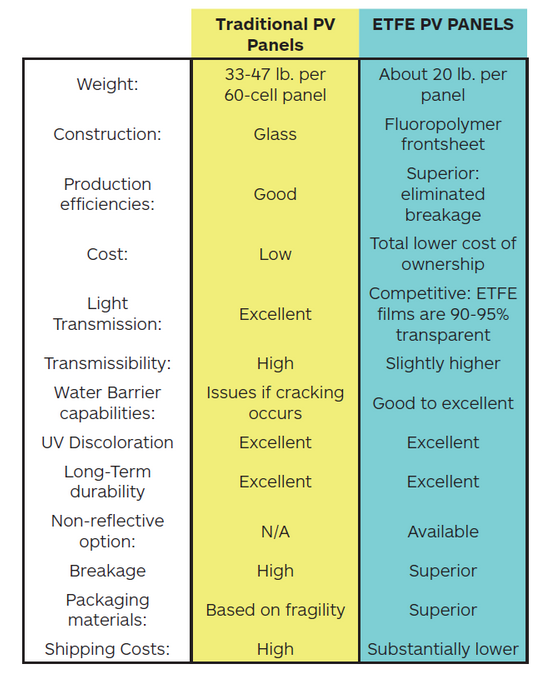 Figure 4. Comparison of glass and ETFE film frontsheet attributes for solar or PV panel construction. Source: Saint-Gobain Specialty FilmsSeveral types of SPP systems are available including glass, coatings and protective films. While glass can have high transmission values, the cost of glass is higher compared to film and coating options. Glass is also less impact-resistant compared to films and coatings. Depending on the application method, coatings can have increased variations in thickness compared to protective film. After an extended period of time, an SPP system may need to be replaced or upgraded. A degraded protective coating may be harder to replace compared to a film or glass layer.
SPP films are often based on ethylene tetrafluoroethylene (ETFE) polymers due to the superior properties it provides. ETFE also has excellent non-wetting and release or non-sticking, which means ETFE is self-cleaning because the non-sticking properties prevent dirt build-up. The light transmission of ETFE films is higher than 94%. The self-cleaning characteristics and high transmissivity of ETFE ensures that solar conversion efficiency will be maintained.
ETFE film has a high tensile elongation (e.g., 400%). As such, ETFE has superior tear strength and is not easily ripped or scratched, even in harsh environments. ETFE film can be used in temperatures ranging from -200° C up to 165° C. The outstanding thermal properties, low flammability, chemical resistance and weatherability makes ETFE film a superior protective option for solar applications in marine, oil and gas, chemical plant and building-exterior applications. Due to its excellent dielectric properties, ETFE films provide effective electrical insulation and prevent shorting of PV cells.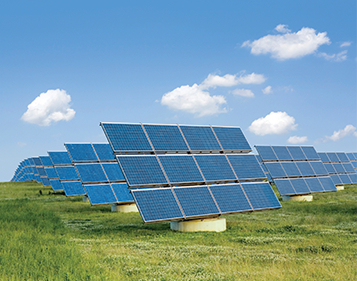 Figure 5. PV or solar panels require a protective frontsheet to maintain power generation efficiency and prevent damage. Source: Saint-Gobain Specialty FilmsGlass has a density of 2.8 g/cm3, which is much higher than ETFE's 1.7 g/cm3. In addition, ETFE film frontsheets are typically far thinner compared to glass frontsheets because glass is more easily broken. Lightweight PV panels can be constructed using ETFE films, which is an advantage in recreational vehicles, marine craft, automotive and other mobility applications. For fixed installations, the ETFE can be mounted with much lighter weight framing and results in less load on the roof. For instance, a traditional 20-panel solar array using glass material weighs approximately 360 kg with an additional 230 kg in mounting hardware and equipment. ETFE film frontsheets could reduce solar panel weight by approximately 30% to 50%.

In addition, Saint-Gobain Specialty Films can provide innovative matte ETFE films. The matte surface reduces glare, minimizes imperfections, improves visual appeal and resists marking. Matte ETFE films can be the optimal choice where glare risk must be limited, such as in mobility applications as well as near airports, rail stations, bus terminals and other high-traffic areas.
ETFE films are thermoplastics and can be thermoformed, welded and melt-processed. Corona surface treatments, or C-treatments, can be applied to one or both sides of the ETFE film to enhance bonding between the EVA adhesive encapsulant and the silicon PV cells. The toughness, ease of forming, bondability and lightweight nature of ETFE film can improve handling, shipping and manufacturing processes during solar panel construction, which further improves the total cost benefit.

Energy storage and balance of system protection
Alternative energy systems often contain additional balance-of-system (BOS) components requiring environmental protection. BOS components can include:
Battery banks, ultracapacitors and other energy storage devices
Chargers, charge controllers, inverters, power conditioners and energy converters
Power meters, solar string monitors and other power monitoring devices
Generators (on wind turbines)
Main panels (AC), DC disconnects, AC disconnects and other electrical distribution devices
Enclosures, cases and junction boxes for BOS components
In BOS applications, surface-protective films or coatings provide protection against, general corrosion, graffiti and debris accumulation. The specific protection type is geography dependent. For instance, in offshore settings, bird droppings and general corrosion could be more important factors. In high-traffic urban locations, graffiti might be a major issue.
While some of these issues could be dealt with using corrosion and tamper-resistant materials such as stainless steel or molded fluoropolymers, these options would not be economically viable. ETFE films and other fluoropolymer surface-protective film materials from Saint-Gobain Specialty Films can cost-effectively provide the required tamper and weather resistance. ETFE films can be molded or shaped with the thermoforming contours to cover and protect the BOS components and enclosures.
Next steps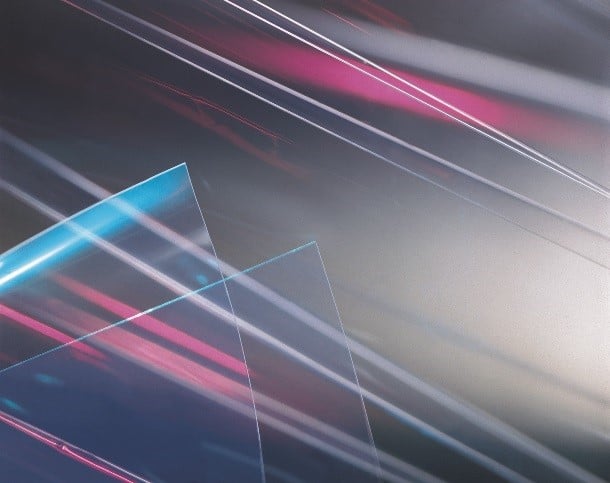 Figure 6. A wide range of customizable CHEMFILM® ETFE surface-protective films are available for alternative energy applications. Source: Saint-Gobain Specialty Films
Saint-Gobain has many protective films for a wide variety of alternative energy applications. Their surface-protective films provide many distinct performance advantages and cost benefits compared to alternative technologies. Additional information on CHEMFILM® and other materials for alternative energy is available at Saint-Gobain Specialty Films' Energy Industry Applications, CHEMFILM® ETFE-2 General Purpose Films and NORFILM® Surface Protection Films.
Saint-Gobain Specialty Films specializes in small runs and custom products with the ability to meet the needs of customers with highly unique, market-changing products. They are willing and able to partner with customers to customize adhesive, film backing and even release liners to for almost any application. Saint-Gobain Specialty Films' applications engineers and technical experts can help determine the best material solution for improving a future alternative energy product under development or upgrading an existing product in production.
Contact Saint-Gobain Specialty Films to start evaluating applications or to learn more about specific surface-protective film products.