Algae-based filter improves potable water safety
S. Himmelstein | August 21, 2019
A point-of-use filter composed of fibers extracted from locally grown algae might provide a tool in the fight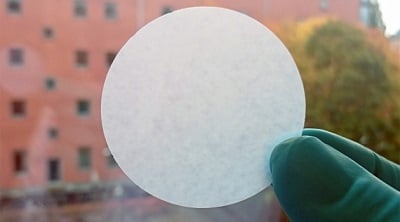 Paper filter made from Pithophora algae. Source: Albert Mihranyan, Uppsala Universityagainst waterborne diseases in Bangladesh. The cellulose filter paper can be used as a total pathogen barrier to remove all types of infectious viruses and bacteria from water.
Researchers from Uppsala University, Sweden, and Dhaka University, Bangladesh, developed the filters with nanocellulose fibers obtained from locally grown Pithophora green macroalgae. Pore sizes in the low-cost material can be tailored to allow water to pass through while trapping different viruses and bacteria.
Filter performance was validated using surrogate latex nanobeads, in vitro model viruses and water samples collected from the Turag River and Dhanmondi Lake in Dhaka, Bangladesh. Bacteria and virus removal efficiencies exceeding 99.9% were documented, as was the removal of virus particles smaller than 27 nm to 28 nm.