Replacing rare earths with common elements in electronics
S. Himmelstein | July 08, 2019
Solar cells, smartphones and other electronic devices require the use of indium, gallium and other rare-earth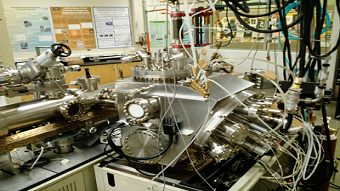 The molecular-beam epitaxy system deposits each atomic layer of the compound. Source: University of Michiganelements. These essential and expensive resources are in limited supply, prompting an international research team to combine and test other more abundant elements as optoelectronic materials.
Substitutes for the Group III rare earths were identified by combining elements from adjacent groups in the periodic table. Molecular beam epitaxy was used to produce thin films of zinc, tin and nitrogen, layering the elements on top of each other with atomic precision. The resulting material can harvest both solar energy and light, so it would work in thin-film solar panels as well as in LED light bulbs, smartphone screens and television displays. Replacing the zinc with magnesium extends the range of available light into the blue and ultraviolet parts of the spectrum.
The materials composed of the relatively more common elements are also tunable and can be manipulated at the development stage to make components that are more sensitive to specific wavelengths of light. LEDs fabricated with these compounds could be tuned to give off specific colors of light.
A paper on the research conducted by scientists from the University of Michigan, Université de Lorraine, France, and the University of Canterbury, New Zealand, is published in Physical Review Letters.