Bridge comes alive with self-reporting sensors
Marie Donlon | June 05, 2019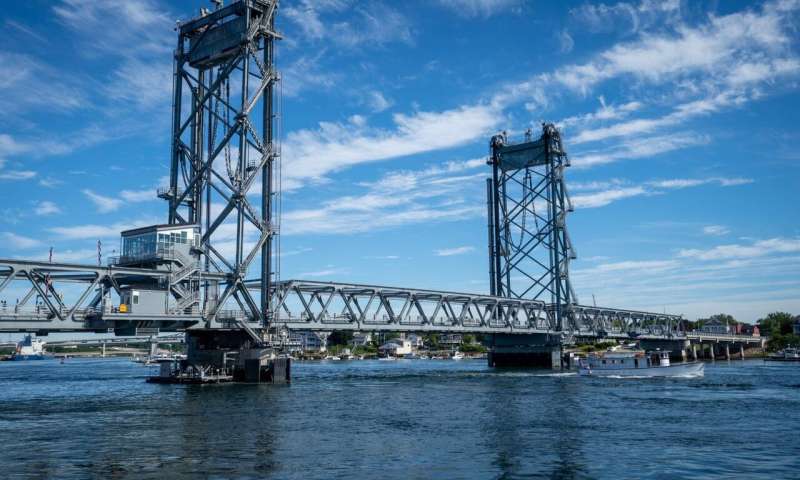 The "living" bridge. Source: Scott Ripley/UNHUniversity of New Hampshire (UNH) engineers have transformed a busy vertical-lift bridge into a living laboratory that collects and communicates information about bridge health, as well as the health of the surrounding environment
The Memorial Bridge, which has been dubbed a "living bridge," spans the Piscataqua River, connecting Portsmouth, New Hampshire, and Kittery, Maine. The bridge is now equipped with 40 different self-diagnosing sensors that can communicate information about the stresses the bridge encounters, its structural performance, tower behavior during bridge lift, acceleration and strain, traffic patterns, sea level and tidal information and weather conditions. Engineers are updated with current bridge conditions, and the data could also inform next-generation bridge construction.
The engineers and researchers have been planning the sensor suite since 2016, and the system is now ready for service.
"Building a new bridge can cost communities millions of dollars, so there is interest in exploring ways to get bridges to do more than just transport people and goods," said Erin Bell, associate professor of civil engineering and principal investigator of the Living Bridge Project.
Data is also gathered from below the bridge, thanks to a floating platform that attaches to the bridge pier. The floating platform, which rises and falls with the changing tides, includes a weather station and sensors that collect data about water conditions. Also installed on the platform is a tidal turbine to test whether the Piscataqua River, which is considered one of the fastest navigable rivers on the Eastern seaboard, could be a viable renewable energy alternative.
"What is exciting about this is that tidal energy can be very predictable," said Martin Wosnik, associate professor of mechanical engineering. "Unlike solar panels, which can be unreliable due to cloudy days or bad weather, tidal energy is more stable because we can predict the tides well into the future."
The data collected from the sensors may also eventually be used to create a phone app, letting users learn about both the bridge and its environment.