German Automotives Partner to Make Battery Charging More Efficient
Engineering360 News Desk | June 26, 2015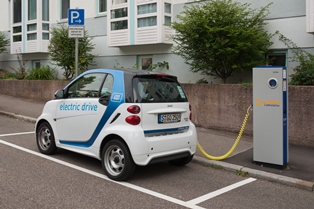 An electric vehicle charging at an on-street station. Source: wikipedia.comGerman's 12 automotive partners are teaming up on a three-year research project to investigate how batteries in electric vehicles can be charged more efficiently.
The partners will use GaN and SiC power semiconductors to reduce losses during charging and associated noise from fans, and expect these will help accelerate the move to what they say will be climate-friendly mobility.
The researchers have been able to reduce electronic power component losses during charging by 30%. They say that means less waste heat and, as a result, more compact and quieter cooling units.
The project also aims to determine how GaN or SiC power semiconductors can be used reliably in charging devices, voltage regulators and inverters for auxiliary power units. Research results are expected to accelerate the transition to air-cooled and fan-less systems for future generations of electric vehicles.
The 12 project partners include AVL Software and Functions GmbH, BMW AG, Daimler AG, Fraunhofer Institute for Integrated Systems and Component Technology IISB, the University of Applied Sciences Ostwestfalen-Lippe, Infineon Technologies AG, Lenze Drives GmbH, Robert Bosch GmbH, RWTH Aachen University, Siemens AG, Leibniz University Hannover and Volkswagen AG.
Related Links and articles:
BMW and Volkswagen Partner to Build Fast-charging EV Stations
Fill 'er Up: Building the EV Recharge Infrastructure