Crank It Up! How Engineering Innovation Cooled the World
Bill Schweber | July 22, 2016

(Editor's note: Summer heat is upon many parts of the U.S. and elsewhere. This article, originally published in June 2015, profiles the engineer who made air conditioning possible.)
It is hard for us today—with the ubiquitous air conditioning (A/C) and mechanical refrigeration many of us enjoy—to grasp how A/C changed our lives. It made tropical and desert places habitable, and it gave us the luxury of having access to cooling on demand for food, medication, electronic systems and science research. As the protagonist in Paul Theroux's book The Mosquito Coast proclaims, "refrigeration is civilization."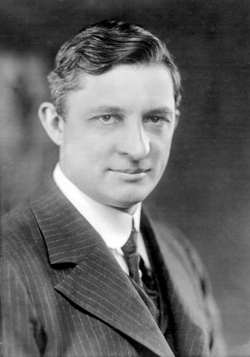 Willis Carrier was a mechanical engineer whose innovative work helped bring about practical air conditioning. Image source: Carrier.com The development of air conditioning (and refrigeration) is largely due to the efforts of Willis Carrier, a Cornell University mechanical engineering graduate, who realized how to adapt compressors and the thermal cycle to cooling air and its moisture (also known as humidity). Although A/C is associated primarily with personal comfort, Carrier was a heating-system engineer for Buffalo Forge Co., and was working at Sackett & Wilhelms Lithography and Printing Co. in Brooklyn, N.Y., on the problem of inconsistent color registration caused by temperature and humidity. Variations in those factors affected paper dimensions, stiffness and ink absorption.
Early and Ineffective
Crude attempts at cooling the air and spaces had been made prior to Carrier's work. One technique used fans to blow air over blocks of ice cut from frozen lakes during winter. (There were even cargo ships to transport ice around the world using sawdust for insulation; amazingly, the ships lost only about half their original cargo due to melting despite sometimes-lengthy journeys). In places where cool water from a source such as a stream was available, water could be pumped through pipes and air blown across them. While these techniques were not really effective at cooling, they provided a psychological boost even if they left humidity levels unchanged or even increased them uncomfortably.
Willis Carrier understood the principles of heat flow, phase transitions and thermal cycles. He realized that the issues of temperature and humidity were intertwined, and that a viable A/C system would also have to dehumidify the air. As part of his analysis, he developed a "psychrometric chart" that graphically captured the relationship among air temperature, relative humidity, dew point and enthalpy. Carrier presented his chart at a 1911 meeting of the American Society of Mechanical Engineers. It is still used for analysis and to study the acceptable comfort ranges for various activities based on metabolism and body mass. (In many ways, the chart is the climate-control analog to the venerable Smith chart used in RF-circuit engineering, see here.)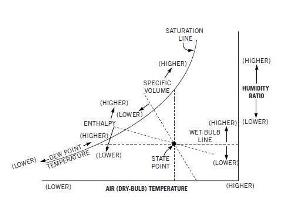 This simplified pyschrometric chart shows the relationship among the critical air-property variables; it defines a specific state point based on the intersection of any two property lines.A point on the psychrometric chart is defined by the intersection of any two variable lines and represents a unique "state point" for air properties. Once an engineer knows this point, he or she can determine all the other air-property variables at this state point. Many versions of the chart highlight an area in the center—bounded roughly by 68⁰F and 82⁰F (20⁰C and 28⁰C) on the left and right, and 30% to 70% relative humidity on the top and bottom—as the zone in which most people feel comfortable.
Foggy Night Inspiration
According to his recollections, Carrier had a flash of insight while waiting for a train on a foggy night as temperatures dipped toward freezing. He knew that cool air holds less water vapor than warm air, and realized that if his system could saturate the air and then control its temperature at saturation (as a machine-made fog), the system could control the amount of moisture in the air. After several false starts due to inadequate performance of constituent parts, he devised a compression-based system. This was patented in 1906 and he subsequently founded Carrier Corp., a leader in A/C technology and products. The first installations of his system were in movie theaters and department stores, which needed a way to draw customers in on hot, humid days and could afford the cost and size and an air conditioning unit.
In simplified form, his design consists of a condenser coil, an evaporator coil, a receiver for refrigerant and an expansion device or valve. Although it is a common notion that an air conditioner "cools" the air, that is a misconception. Instead, the A/C transfers heat from one place to another; as the refrigerant passes though the evaporator, it absorbs heat from the room and so cools it.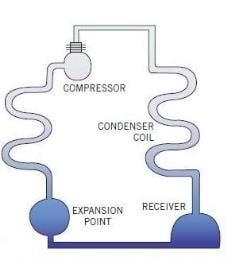 The basic compressor-based mechanical refrigerator provides a closed-loop path for fluid flow and phase change as the refrigerant serves as a vehicle to remove heat from air on one side and transfer it to air on the other side.In operation, the compressor acts as a pump and forces liquid refrigerant under pressure through the liquid line and to the expansion device, which regulates the flow of refrigerant into the evaporator. As the high-pressure refrigerant expands in volume in the evaporator, its pressure is reduced. This, in turn, reduces its boiling point. At the low pressure, it absorbs heat from the warm air flowing across the outside of the evaporator.
As the refrigerant boils (vaporizes) and removes heat, it is no longer useful for cooling in the coil. The vapor is now at low pressure and laden with heat. This vapor is pumped out of the evaporator to the compressor, whose action increases its temperature and pressure and forces it to the condenser. The cooler air passing over the condenser coils cools the relatively hot refrigerant vapor and absorbs some of the refrigerant's heat. As a result, the air gets hotter while the refrigerant gets cooler. This continues until it is cooled to its saturation point, at which point the vapor condenses back to a liquid. To complete the cycle, the high-pressure liquid again flows to the expansion device. In a real system, a fan is added to drive air over the evaporator and condenser coils. There is also a mechanism for eliminating the excess moisture that condenses from the now-cooled air.
Principles of Heat
A brief review of the principles of heat may be useful to better understand Carrier's insight.
The second law of thermodynamics is clear: heat (which is a manifestation of "work" in physics) flows only from warmer bodies to cooler ones in a process called "heat transfer." While all substances can absorb heat, refrigerants are one substance that can absorb heat quickly and in large amounts. Common refrigerants include air, water, brine, ice, ammonia, carbon dioxide and fluorocarbons (DuPont's Freon is among the best known of these).
The energy content of air is called enthalpy. It is designated in British thermal units (BTUs) per pound, or kilojoules per kilogram of dry air in the SI system. A gas gives up its heat when it changes phase to the liquid state (and a liquid gives up its heat when it transitions to a solid). In the reverse process of vaporization, the liquid loses heat as it changes phase to gas. The specific temperature at which the liquid changes to gas at a specified pressure is defined as its boiling point. The heat that a material gains or losses during condensation, vaporization, freezing or melting is called "latent heat."
In addition to the liquid-gas-liquid phase change used in A/C system, the well-known liquid-to-solid (and reverse) phase change also exists. Removing enough heat from a liquid will cause it to freeze, while adding heat to a solid causes it to melt. This is why citrus growers spray water on their crops to protect them from frost as the temperature drops below freezing, though it seems counterintuitive to most people; as the water freezes, it gives up its latent heat and warms the fruit. The hope is that this will save the crop from harm in freezing conditions.
The development of air conditioning gave more than personal comfort as well as consistent manufacturing (the original incentive for Carrier's work). Air conditioning's success became the basis for cost-effective, practical, mechanically powered refrigeration on demand, which is a cornerstone of modern society. Before its development, nearly every society around the world had access to heat and fire and could call on them as desired. In contrast, many were not even aware of the concept of "cold," and even those who were could not have it on demand, as we now routinely do.
References
Eldridge, Ali, "The coolest inventor: Willis Haviland Carrier and his air conditioner," Enslow Elementary, 1974.