Aerogel material masks objects from heat-sensing cameras
S. Himmelstein | March 04, 2019
The ability to mask objects from heat-sensing cameras is of value for military and commercial applications, but efforts to impart invisibility have been challenged by power supply, material and economic constraints. Materials with appropriate tunable thermal emissivity, flexibility and fast response speed characteristics must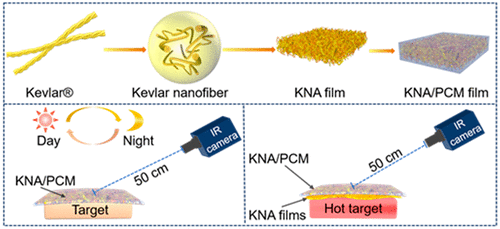 (a) Schematic description of the preparation of Kevlar nanofiber aerogel (KNA) film and its phase-change composite film (KNA/PCM). (b,c) Schematic representation of the infrared stealth of KNA/PCM composite films to targets in a simulated outdoor environment with solar illumination variations (b) and KNA–KNA/PCM combined structures to hot targets (c). Source: American Chemical Societybe engineered to effectively cloak objects from infrared detectors.
An aerogel film composed of DuPont Kevlar fibers was combined with a phase-change material to realize the desired shielding properties. The films were synthesized by dispersing Kevlar into dimethyl sulfoxide, spin-coating/blade-coating, sol–gel processing and subsequent freeze-drying. The flexible, high porosity aerogel films possess superior thermal insulation properties and extraordinary capillary force, which were then combined with phase-change materials and layered with a hydrophobic coating to fabricate phase-change composite films.
Tests demonstrated high thermal management capability and an infrared emissivity of 0.94, comparable with the value of most backgrounds. The aerogel-phase-change material also exhibited an ultralow infrared transmittance of a wide waveband of 3 to 15 μm. Its tunable heat capacity and phase-change enthalpy resulted in high performance in infrared stealth when trialed in outdoor environments with solar illumination variation.
Under simulated sunlight, the film covering an object absorbed solar heat with a slow increase in temperature, just like its surroundings, and rendered the object invisible to a thermal camera. Under nighttime simulations stored heat energy was released to match the surroundings.
Researchers from the Chinese Academy of Sciences and University College London contributed to this materials development study, which is published in ACS Nano.