Simple device gauges safe fluoride levels in drinking water
S. Himmelstein | February 22, 2019
The addition of fluoride to drinking water supplies has become a commonplace practice to boost bone growth and prevent tooth decay. To comply with the World Health Organization maximum fluoride limit of 1.5 mg/L, water samples are routinely checked for fluoride content in well-equipped labs. This task requires the use of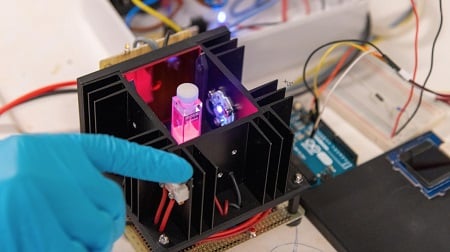 The device detects fluoride anions in drinking water. Source: Marie-The and Etienne Roux, Ecole Polytechnique Fédérale de Lausanne well-equipped laboratories, which may not be available in all regions. A lack of such facilities for routine monitoring can result in elevated fluoride levels in potable water, which in turn can prove harmful to children.
Researchers from Ecole Polytechnique Fédérale de Lausanne in Switzerland and the University of Cyprus devised an inexpensive, portable device to fulfill this need. The SION-105 tool uses a luminescent metal-organic framework material to measure fluoride concentrations at a sensitivity of parts-per-million in a small water sample. A change in color indicates whether the fluoride levels present are safe for consumption.
The technology was used to analyze groundwater samples collected in Vietnam, the United Arab Emirates and Saudi Arabia. Its readings were comparable to those obtained by ion chromatography, a standard laboratory-based method of measuring fluoride content. This metal-organic framework material can be easily regenerated and used over 10 cycles, and the SION-105 can be used in the field by anyone.