Wastewater-borne antibiotic-resistant bacteria no match for graphene
S. Himmelstein | July 23, 2020
The growing presence of antibiotic-resistant bacteria and associated free-floating resistance genes in wastewater systems underscores the need for new tools to combat this public health threat. These potential superbugs are effectively inactivated by graphene oxide-wrapped microspheres developed by researchers from Rice University, Tongji University (China) and Yale University.
The bismuth-oxygen-carbon microspheres encased in nitrogen-doped, reduced graphene oxide were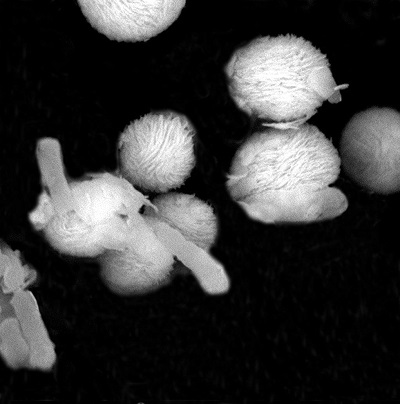 Electron microscope image shows E. coli bacteria trapped by wrapped microspheres. Source: Deyi Li/Tongji Universitydemonstrated to destroy multidrug-resistant Escherichia coli NDM-1 and to degrade antibiotic-resistant genes in secondary effluent. Under light exposure, the photocatalytic microspheres produce reactive oxygen species (ROS), which disinfect water. The graphene wrapping enhanced E. coli adsorption near photocatalytic sites to minimize ROS scavenging by background constituents, enabling the newly developed microspheres to outperform commercial titanium dioxide photocatalyst.
Inclusion of nitrogen in the graphene oxide casing boosted the capacity of the spheres to capture more bacteria, affording more time to destroy bacteria and the antibiotic-resistant material they release. The graphene-wrapped microspheres designed to mitigate antibiotic resistance propagation in the environment are also reusable as they are large enough to be filtered out of and recovered from treated effluent. The spheres were observed to retain photocatalytic activity after 10 treatment cycles.