Boosting lithium-air battery performance with 2D catalysts
S. Himmelstein | January 15, 2019
Lithium-air batteries, in which the metallic lithium of the anode reacts with oxygen from air, hold the promise of storing electricity at up to 10 times the energy density of lithium-ion batteries. Higher energy densities would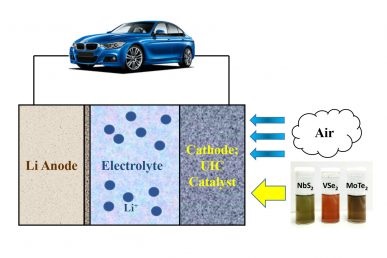 Schematic depicting how 2D catalysts power an electric vehicle. Source: Amin Salehi-Khojin, University of Illinois at Chicagohelp promote the deployment of these lightweight devices in electric vehicles and computers.
Advanced catalysts based on 2D materials have demonstrated excellent catalytic performance for both oxygen reduction and evolution reactions in an aprotic medium — lacking oxygen-hydrogen or nitrogen-hydrogen bonds — with lithium salts. Materials scientists engineered 15 transition metal dichalcogenide catalysts and tested them in an electrochemical system designed to simulate a lithium-air battery.
The new class of materials supported higher reaction rates relative to those documented for gold, platinum and other conventional catalysts. The superior performance is attributed to high electronic conductivity and fast electron transfer, which in turn speed up charging/discharging reactions.
The researchers theorized that electric vehicles using 2D catalysts could have a range of 400 to 500 miles per charge instead of the current 100-mile range.
Researchers from Purdue University, the University of Illinois at Chicago, Washington University in St. Louis and Argonne National Laboratory contributed to this materials development.