Video: Converting CO2 to Useful Chemicals by Microbial Electrosynthesis
S. Himmelstein | December 13, 2018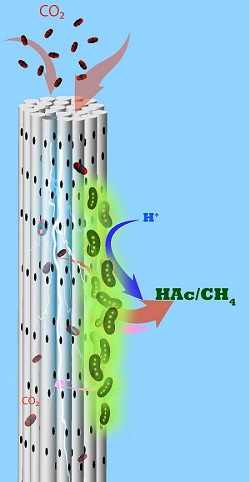 Microbes growing on porous cylindrical electrodes suck in CO2 and turn it into useful chemicals such as acetate and methane. Source: Bin Bian/King Abdullah University of Science and Technology
A microbial approach to the recycling of carbon dioxide into value-added products is being advanced by researchers from Saudi Arabia's King Abdullah University of Science and Technology. A bioreactor system houses chemolithoautotrophic microbes commonly found in hydrothermal vents and other environments devoid of organic carbon energy sources.
The microbes' ability to exploit inorganic compounds and reduce CO2 was harnessed in a microbial electrosynthesis (MES) process using cathodes made from stackable, cylindrical porous nickel fibers, which facilitate direct delivery of the gas to microbiota. This arrangement resulted in a 77% faradaic efficiency for conversion of CO2 to methane.
The application of carbon nanotubes to the MES electrodes further enhanced microbial growth as well as CO2 adsorption by porous fibers. The nanotube coating also resulted in higher electron recovery in the form of acetate production for the porous nickel material.