Researchers Develop Tough Hydrogel Structures with 3D Printing
Engineering360 News Desk | June 03, 2015
Researchers at the Massachusetts Institute of Technology (MIT), Duke University and Columbia University have created a way to make tough, but soft and wet, biocompatible materials, called "hydrogels" into complex and intricately patterned shapes.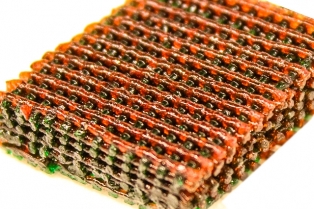 Image shows the open lattice of 3D printed material, with materials having different characteristics of strength and flexibility indicated by different colors. Image source: MITThey say this may lead to injectable materials to deliver drugs or cells in the body, tough but flexible actuators for future robots or scaffolds to replace load-bearing tissues.
According to Xuanhe Zhao, associate professor of mechanical engineering at MIT, the hydrogel structures are "extremely tough and robust" and compatible with the encapsulation of cells in the structures. These qualities make 3D printing complex hydrogel structures a future possibility.
The biocompatible hydrogel can be printed into diverse 3D structures such as a hollow cube, hemisphere, pyramid, twisted bundle, multilayer mesh, or physiologically relevant shapes, such as a human nose or ear, according to the researchers.
"The innovation is really about the material–a new ink for 3D printing of biocompatible tough hydrogel," Zhao says. "Each material individually is weak and brittle, but once you put them together, it becomes very tough and strong. It's like steel-reinforced concrete."