Equipment Failures Occurred Just Before Wildfires Ignited
David Wagman | November 15, 2018
Two California utilities said that equipment malfunctions at remote locations occurred minutes before wildfires broke out that have since spread to become the state's deadliest.
In filings with the California Public Utilities Commission, Pacific Gas and Electric (PG&E) and Southern California Edison provided preliminary reports on the equipment failures and subsequent fires that ignited nearby. Both utilities said that the cause of the Camp Fire and the Woolsey Fire remain under investigation and that they are cooperating with authorities.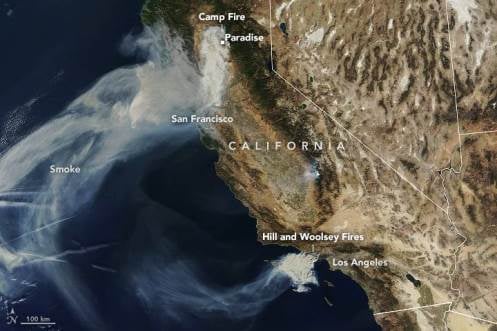 Satellite images of the Camp Fire and the Hill and Woolsey fires in California, taken Nov. 9, 2018, by the Moderate Resolution Imaging Spectrometer on NASA's Terra satellite. Source: NASA Earth ObservatoryNews reports said that on November 13 residents of one city virtually destroyed by the Camp Fire filed suit against PG&E, alleging that negligence and faulty equipment sparked the fire. In a follow-up filing with the U.S. Securities and Exchange Commission, PG&E said that the total cost of claims against it could exceed limits set by its wildfire insurance policy.
Incident Reports
On Nov. 8, 2018, the Camp Fire began near the northern California city of Paradise. By the morning of November 13, the fire had consumed 125,000 acres and was around 30% contained. Fire officials reported 42 fatalities and said that the fire had destroyed more than 6,500 single-family homes and 260 commercial structures. The fire was not expected to be under control before the end of November.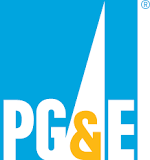 On November 8, PG&E submitted an electric incident report to utility regulators. It said that at around 6:15 that morning, the utility experienced an outage on the Caribou-Palermo 115 kilovolt transmission line in Butte County. Later that day, aerial observers reported damage to a transmission tower on the transmission line, in the area of the Camp Fire.
At 2:22 p.m. that same day and hundreds of miles to the south, a 16 kilovolt circuit at Southern California Edison's Chatsworth substation relayed. Two minutes later, at 2:24 p.m., first reports of the Woolsey Fire were made, indicating that it began in the vicinity of the utility substation. The fire's cause remains under investigation, as does the cause of the substation circuit relay. In general, protective relays and fuses at electrical substations are used to automatically detect overloads and disconnect circuits at risk of damage.
Fire Insurance and Liability
In its SEC filing, PG&E said that it renewed its liability insurance coverage for wildfire events to cover around $1.4 billion in potential liability. It said that if its equipment is determined to have caused the fire, the utility "could be subject to significant liability in excess of insurance coverage" that could have a "material impact" on its financial condition.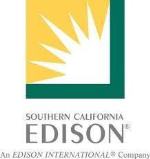 In September, California lawmakers passed into law Senate Bill 901 to address the state's growing number of wildfires and shift some of the financial burden as a result of those fires off of utilities. According to news reports, utilities will have to provide new details to California utility regulators on vegetation removal and electricity shutoff plans. Regulators will have to sign off on those plans, an action that lawmakers said was intended to ensure more accountability in the aftermath of a fire.
Utility regulators will be given new guidelines to help determine a utility's liability. Reports said that for fires that begin in 2019 and beyond, utility companies will be able to shift some fire-related costs to consumers, but only to the extent that regulators determine the company wasn't negligent. State regulators opened a proceeding in late October to begin to implement provisions of SB 901.
In September 2010, a 30-inch-diameter steel natural gas pipeline owned by PG&E exploded in San Bruno, California, near San Francisco International Airport. The accident killed eight people.
In August 2011, the National Transportation Safety Board cited what it called the utility's "lax approach to pipeline safety" and "inadequate oversight" of two government agencies as the probable cause of that accident.