Algorithm Predicts More Efficient Wind Farm Layouts
Siobhan Treacy | November 13, 2018
Researchers from Penn State Behrend and the University of Tabriz have developed an algorithm that creates more efficient wind farms. It could help builders generate create more renewable energy for customers and revenue.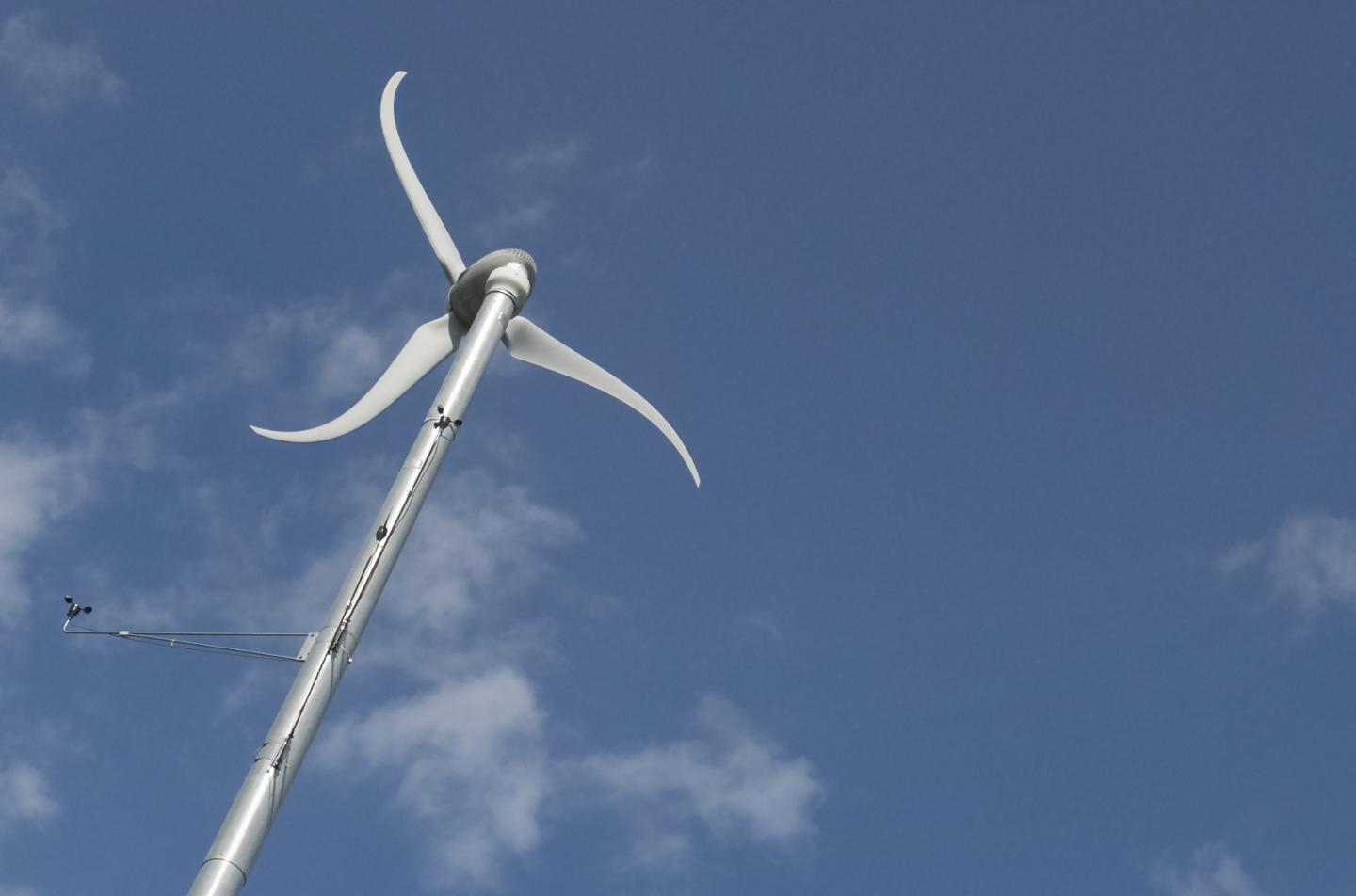 This is a wind turbine at the Penn State Sustainability Institute, University Park. (Source: Patrick Mansell / Penn State)
"Wind energy is on the rise, and not just in the U.S.," said Mohammad Rasouli, assistant professor of electrical engineering at Penn State Erie, the Behrend College. "The efficiency of solar panels is less than 25 percent and is still a subject of current research. Wind turbines, on the other hand, are much more efficient and convert over 45 percent of the wind energy to electricity."
Poorly planned wind farm result in poor turbine efficiency. Turbines need to be placed and spaced apart so the highest possible wind speeds confront the turbine. If turbines are too close or in front of each other, the efficiency of leeward wind turbines suffer. There are other factors in building a wind farm including land size, geography, number of turbines, surrounding vegetation, meteorological conditions and building costs. The researchers took all of these factors into consideration.
When developing the algorithm, the team looked at biogeographical-based optimization (BBO). BBO is based on how animals naturally move and place themselves to make most of their environment. The team used BBO to create a model that calculates the right placement of objects, like turbines on a wind farm.
"Analytical methods require a lot of computation," said Rasouli. "This BBO method minimizes computation and gives better results, finding the optimum solution at less computational cost."
The team included other variables in the algorithm, such as real market data, surface roughness, how much wind each turbine receives and more. They created a realistic model that calculates wakes and tested how sensitive the model is to other environmental factors.
"This is a more realistic optimization approach compared to some of the simplifying methods that are out there," said Rasouli. "This would be better to customers, to manufacturers, and to grid-style, larger-size wind farms."
With the new improvements the team has made to the BBO approach, the new algorithm can be used by wind farmers to map out new wind farm layouts.
The paper on this algorithm was published in the Journal of Cleaner Production.