In China, a Bot Will Deliver Snacks to Your Door
Marie Donlon | July 18, 2018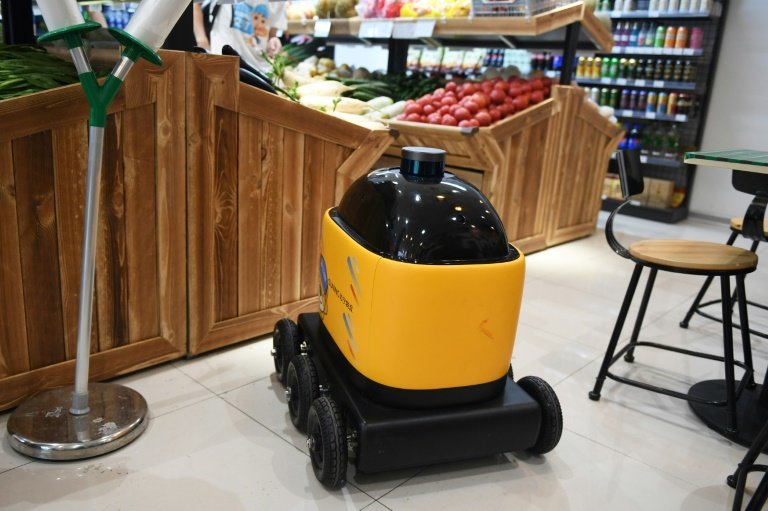 Weighing 30 kilos and with a theoretical top speed of 12 kilometres per hour on their six wheels, the robots have four cameras constantly scanning the world around them and a laser tele-detection system allowing them to avoid obstacles. Source: AFP
Helping to deliver snacks, beverages and other items in the "Kafka" compound of Beijing is the little yellow and black robot that could.
The autonomous delivery bot, dubbed the "little yellow horse," brings residents of the Chinese city products from a local store thanks to a combination of GPS, cameras and radar.
Though the bot travels at a glacial pace — under two miles per hour — customers benefiting from the bot's services realize its value.
"The weak point is that it cannot deliver directly to the door like a human," said one customer, who does not live on the ground floor.
"But it's still quite practical. The robot delivers relatively quickly," the customer added.
To secure the bot's delivery services, customers in the compound simply select items to purchase, enter in their address and pay for their purchases using their phone. Once the order is received, supermarket employees place the customer's selected items in the bot and the bot sets off.
Realizing the potential such a creation could mean for the future, Liu Zhiyong, founder and CEO of Zhen Robotics, maker of the "little yellow horse," said: "At the moment, there are 100 million packages delivered every day in China. It will be one billion in the future."
"There will not be enough humans to make the deliveries. We need more and more robots to fill this gap in manpower. And to reduce costs," added the CEO.