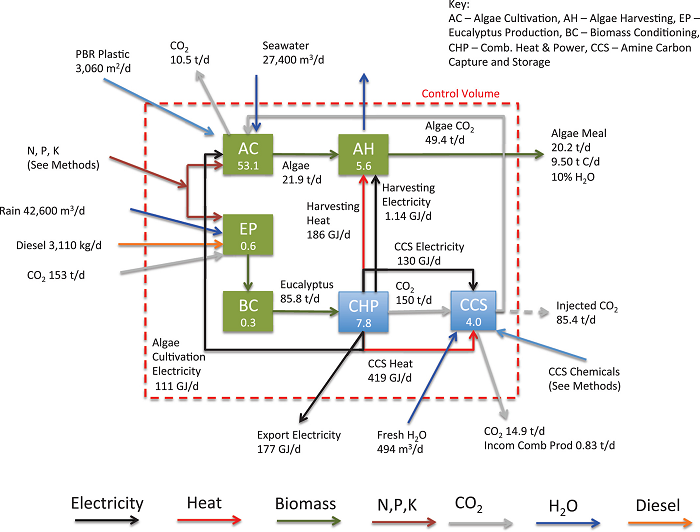 Process flow diagram for the integrated ABECCS facility. Capital costs for each component are shown beneath the component label in millions of dollars. Source: American Geophysical UnionAn integrated system devised by Cornell University, Duke University and the University of Hawaii can generate power, produce food protein and simultaneously remove carbon dioxide from Earth's atmosphere.
The algae bioenergy with carbon capture and storage system (ABECCS) functions as a carbon dioxide sink while also generating food and electricity. A 7,000-acre ABECCS facility can yield as much protein as soybeans produced on the same land footprint, while also generating 17 million kWh of electricity and sequestering 30,000 tons of carbon dioxide annually. More energy is generated than consumed and the freshwater footprint is roughly equal to that for soybeans.
The ABECCS's economic viability depends on the value of the nutritional products being produced and the price of carbon. Even without a price on carbon, microalgae production — in a fish-farming, aquacultural sense — is commercially viable today if the algae are priced as a fishmeal replacement in aquafeeds.
The researchers envision replacing soy cropland by eucalyptus forests used for ABECCS facilities to provide marine algae with carbon dioxide, heat and electricity. The eucalyptus biomass fuels combined heat and power generation with subsequent amine‐based carbon capture and storage.
The results of a technoeconomic and life‐cycle assessment for colocating a 300-acre algae facility with a 6,600-acre eucalyptus forest are published in Earth's Future by the American Geophysical Union.