Portable, Fast and Accurate Device for Soil Pathogen Testing
Marie Donlon | February 26, 2018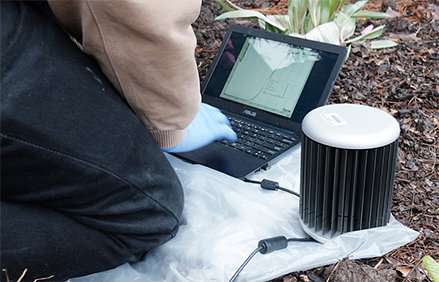 This simple on-site equipment uses a polymerase chain reaction technique to let farmers do cheap, fast and accurate on-site soil testing for crop-damaging pathogens. Source: Washington State University The process of testing soil for pathogens is crucial to farming but also slow and expensive to do. As such, Washington State University (WSU) scientists have developed a method for soil pathogen testing that is inexpensive, quick and accurate.
Detecting disease-causing pathogens in the soil that can significantly level crops requires expensive and cumbersome equipment and lab results that can take weeks to receive.
Based on polymerase chain reaction (PCR) tests, the current tests for soil pathogen analysis are very specific, sensitive and possible only in a laboratory. On the other hand, WSU's newly designed method for soil pathogen testing is portable and fast, requiring only easy-to-access materials.
"We've heard from many growers that the time it takes to obtain results from soil samples sent to a lab is too long," said Kiwamu Tanaka, assistant professor in WSU's Department of Plant Pathology. "The results come back too late to be helpful. But if they can get results on site, they could make informed decisions about treatments or management changes before they even plant their crop."

According to WSU graduate student Joseph DeShields, a first author on the paper, the new method relies on magnets to capture a pathogen's DNA from the soil.
"It turns out, it's really hard to separate and purify genetic material from soil because soil contains so much material for PCR tests," said DeShields. "So we were thrilled when we made that breakthrough."
"We removed a huge stumbling block when it comes to soil testing," said WSU plant diagnostician Rachel Bomberger, one of the co-authors on the paper. "We found the missing piece that makes the testing systems work in the field without expensive lab equipment or testing materials."
Testing the system on potato fields around eastern Washington, Tanaka said the device will work on soil anywhere in the world.
"It's a really versatile method," he said. "You could use it for nationwide pathogen mapping or look at the distribution of pathogens around the country. We started small, but this could have huge implications for testing soil health and disease."
The findings were published in the Journal of Visualized Experiments.