Monitoring Injected CO2 Fate with Noble Gas Tracers
S. Himmelstein | February 17, 2018
Technology is advancing for the storage of carbon dioxide captured from industrial processes or power plants.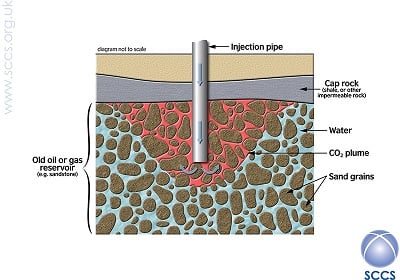 Source: Scottish Carbon Capture and StorageOne approach is to deploy geological CO2 storage, but operators must ensure that injected gas is stored securely. A means to track CO2 migration below ground and identify its source is needed.
A method developed by scientists at Scottish Carbon Capture and Storage partner institute, the University of Edinburgh, stems from previous research suggesting that chemical tracers provide a fingerprint for injected CO2, which can be clearly distinguished from natural sources. Mass spectroscopy was used to conduct time trials of how different chemical tracers, including noble gases and sulfur hexafluoride, a standard tracer compound used in industry, percolate through sample different porous sandstones.
The tracers take different times to travel through the same length of rock, with all of them arriving ahead of CO2. The findings suggest that, if the tracers were added to CO2 before storage, any movement of the gas after storage could be quickly detected.
The noble gases krypton and xenon can substitute for sulfur hexafluoride, a potent greenhouse gas, in tracing applications.
The research is published in the journal Chemical Geology.