Rack Enclosures for High Frequency Military and Aerospace Applications Offer Improved Shielding
Shawn Martin | January 30, 2018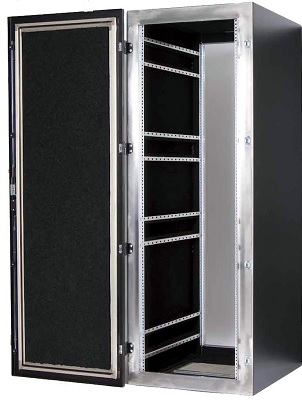 Source: Equipto Electronics CorporationA new enclosure offers certified EMI/RFI shielding from the RF range through the microwave Ka band. With shielding effectiveness of over 75 dB at 40 GHz, the enclosure is designed to protect the most sensitive equipment from any signal intrusions or leakage.
Equipto Electronics new Ka Shield™ rack enclosure addresses needs in data communications, radar targeting systems, space telescopes and other aerospace applications that are now operating in the Ka band.
They are designed to counter EMP weapons and geomagnetic storms that can jeopardize critical data communications in power plants, surveillance systems and other electronically controlled infrastructure.
The enclosure is custom-sized and fitted with an array of exclusive features to accommodate the intended application. The features include:
Front/rear openings can have doors, panels or a combination thereof
Power inputs, fiber optic cables and other power and signal options
Integrated line filters or waveguides
Ventilation options including closed-loop air conditioning units
Fully adjustable internal mounting rails with punched, threaded or square holes
The Ka-Shield series of enclosures are an extension of the Equipto Electronics family of EMI/RFI shielded enclosure systems. They are RoHS compliant and designed to meet specific requirements ranging from commercial FCC standards to the toughest TEMPEST military standards. Complete, independently certified test reports are also available upon request.