Educational technology has made impressive strides in the last decade or so. In the early-to-mid 2000s, teachers were starting to adopt interactive whiteboards, and some were still using traditional overhead projectors. Audio-visual materials were still shown by wheeling a TV/DVD cart into a classroom. The internet was well-established and students could check their grades online and use rudimentary classroom applications to turn in projects and view class materials. By and large, students took notes using a pen and paper, although some college students likely used personal laptops.
The Current Situation: SMARTer Teaching and Learning
The introduction of the SMART Board in 1991 was a milestone in educational tech. These are interactive whiteboards that allow students and teachers to write on their surfaces and control computer applications. Notes written on the board's screen with a provided digital pen are superimposed over whichever app or slide is on the screen, leading to more effective lecturing and note-taking. Most importantly, teachers can save their lecture slides and notes to a class website, so students in need of further review can access them at home. Smart Technologies, the company behind SMART Boards, also provides integrating software to assist teachers with lesson planning and ensure that salient lecture points reach their students.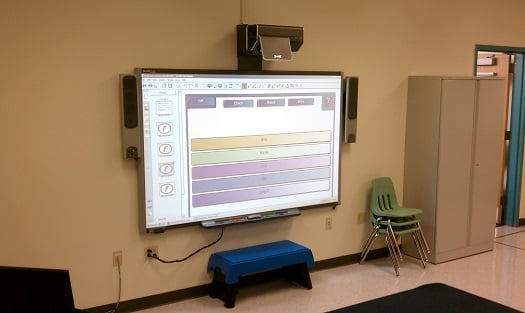 A SMART Board in a classroom. Source: Kevin Jarrett / CC BY 2.0By and large, the introduction of the internet and personal computers into individual classrooms revolutionized classroom technology. Chromebooks have dominated the U.S. education market for years, and their popularity is spreading to schools in Europe as well. These are popular because they are lightweight, low-cost and portable due to their lack of hard memory, and they interface well with educational apps.
Learning management systems (LMS) have also become widespread at all educational levels. Google Classroom, for example, links a number of the company's apps to give teachers and students a centralized learning solution:
Google Drive, to distribute and manage assignments
Google Docs, Sheets and Slides for writing and spreadsheet creation
Gmail for class communication
Google Calendar for scheduling
Google search for research
Other popular LMS apps include Blackboard, Moodle and Canvas.
In higher educational levels, massive open online courses (MOOC) are an effective means for distance learning and self-education. MOOCs are appealing because they can often be completed at a student's preferred pace, feature accompanying discussion forums and opportunities for contact between students, and open-source features. This last benefit often makes MOOCs free for students through platforms like edX. Alternately, other institutions can pay a fee to license MOOCs but make them available to their student body at no cost.
Hands-on Learning: Hardware in the Classroom
For years, tablets have been popular at most educational levels. Even if students are only using tablets during pre-defined class times, each student usually has a personal profile to use when using educational apps. This approach is helpful for individualized instruction in that each app can learn the student's abilities and tailor content and problems to that ability, pushing it if desired. Timed, structured use of tablets can help young students understand that even technology is a tool to be used sparingly and establish the fact that screen-time should be practiced on a limited basis.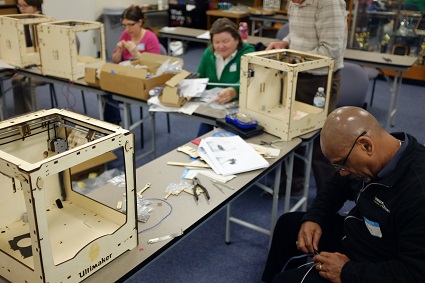 A 3D printer build day in a public library. Source: John Abella / CC BY 2.0In recent years, schools have adopted hands-on technology to assist with science, technology, engineering and math (STEM) education. Many school libraries and technology departments are investing in 3D printers to give interested students hands-on design and manufacturing experience. Inexpensive, single-board computers like Raspberry Pi and Arduino controllers strongly appeal to high-school computer science programs. Students can use these devices to build and program working sensors and controllers, giving them a head start in higher STEM education.
Current Issues in Classroom Tech
Since the introduction of computers into classrooms, critics have questioned some aspects of educational technology. For example, disparity of technology in student homes is sometimes an issue, although less so than in the past. Assigning homework via an educational app assumes that all students have free access to a computer and the internet in their home.
In the current landscape, the connected classroom raises a number of issues. Google has fielded a number of complaints about privacy since the early days of its Classroom app, for example. The Electronic Frontier Foundation (EFF) has made several allegations revolving around Google's alleged mining of student data collected from their educational apps and Chromebooks. While Google stopped mining student Gmail accounts in 2014, in 2017 the EFF continued to allege that the company is partaking in mass data collection without the consent or understanding of parents or school administrators.
The enormous amount of data generated from classroom technology can also work in its favor, however. Teachers and administrators can generate and track student profiles in a centralized location and evaluate how the students are performing as individuals or as a class. Easy access to grades and assessment data mean that students needing intervention and special services are less likely to fall through the cracks.
The Future: Will Virtualization and Augmented Reality Catch On?
The classroom of the future will likely continue to move online and into a virtualized realm. Virtual classrooms and self-paced MOOCs — both of which offer great potential for personalized learning — show no signs of losing popularity. Online standardized testing is also becoming popular in schools looking to reduce paperwork. This type of testing is also useful for homeschooled students or those looking to obtain diplomas through distance programs.
Further off, augmented reality (AR) devices like wearables may find a place in classrooms, although these are often cost-prohibitive. A number of technology startups develop "immersive education" platforms using AR and VR equipment to give students more sensory experiences around science, history and other subjects. An imaginative future classroom might involve tagging along with an Apollo mission on a "field trip" to the Moon via VR equipment to go above and beyond mere book learning.