Larson Davis HMV200 for Human Vibration Measurement
Ken Thayer | January 02, 2018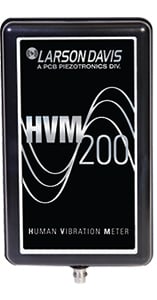 HMV200 Human Vibration Meter. Source: Larson DavisThe Larson Davis division of PCB Piezotronics has introduced the HVM200 Human Vibration Meter with built-in Wi-Fi for measuring whole-body and hand-arm human vibration, as well as general vibration measurement.
What is human vibration and why is its measurement important?
Have you ever experienced numbness or pain in your hands while gripping handlebars or a steering wheel on a bicycle, car or riding mower while on bumpy terrain? Perhaps you've felt the effects of excess vibrations when using hand tools or machinery at work. When people are exposed to mechanical vibration, the forces caused by these vibrations can affect the human body. This effect is referred to as human vibration. Overexposure to human vibration should be avoided to minimize these unpleasant or harmful effects.
Human vibration can be categorized into two different main types: whole-body vibration and hand-arm vibration.
Whole-body vibration is the vibration that is transmitted to the entire body through the surface that supports it, such as the feet, back or buttocks. A person driving a car on a bumpy road subjects the driver to whole-body vibration through the buttocks and back.
Daily exposure to whole-body vibration for extended periods of time can lead to serious physical injuries to the nervous, circulatory or urological systems. This can cause spinal conditions, fatigue, insomnia, headaches and other ailments. Short-term exposure can also cause these symptoms, but they usually disappear after a short period of time.
Hand-arm vibration is the vibration transmitted to the hand and arms, often experienced by handheld power tools and machine operators. This can cause permanent physical damage to the joints, muscles, wrist or elbow. A common ailment due to hand-arm vibration is referred to as "white-finger syndrome" and is characterized by a whitening of the fingers due to nerve and artery damage of the soft tissue of the hand. Initial signs of white-finger syndrome include tingling, numbness and a loss of feeling and control of affected fingers.
Measurement of human vibration is important to reduce excess exposure and prevent permanent injury. ISO has developed standards for human vibration measurement. Although displacement, velocity and acceleration are all specifications that can be measured, ISO requires that acceleration be the parameter used for human vibration.
Accurate measurement instruments have been manufactured to monitor these vibrations. The transducer used most frequently is a piezoelectric accelerometer placed as close to the point of vibration transmission as possible.
The Larson Davis HMV200 Human Vibration Meter meets the requirements of ISO 8041:2005 – Human Response to Vibration – Measuring Instrumentation. It is designed to measure, per ISO 2361-1, 2 and 5, for human exposure to whole-body vibration, while its counterpart ISO 5349 is primarily focused on hand-transmitted vibration.
Mobile apps from the Google PlayTM or Apple App Store can be used to control the measurement and view data with a smartphone or tablet. Data can be transferred for reporting or further analysis using USB, Wi-Fi or a removable microSD card (up to 32 GB).
The HVM200 features a replaceable lithium battery and three measurement channels.
For additional information, visit the Larson Davis and PCB Piezotronics websites.