McDermott International, Inc. is buying CB&I in an all-stock deal valued at around $6 billion.
Upon completion, McDermott shareholders will own around 53 percent of the combined company.
David Dickson, McDermott president and CEO, said the purchase is intended to create a leading onshore-offshore EPCI company.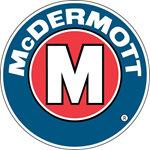 McDermott has a presence in the Middle East and Asia while CB&I has operations in the United States. Together, the companies say they will have a presence across onshore and offshore, upstream, downstream and power markets, "enhancing competitiveness and enabling more consistent, predictable performance through market cycles."
In October 2015, Westinghouse Electric Co. signed a definitive agreement to acquire CB&I Stone & Webster Inc., the nuclear construction and integrated services businesses of CB&I.
On a pro forma combined basis, McDermott and CB&I would have combined revenues of approximately $10 billion and a backlog of approximately $14.5 billion.
The transaction is expected to generate annualized cost savings of $250 million in 2019. This is in addition to the $100 million cost reduction program that CB&I expects to have fully implemented by the end of 2017. The cost savings are expected to come from operations optimization, G&A savings, supply chain optimization, and other related cost savings.
Following completion of the transaction, the combined company will be based in the Houston area. David Dickson will be president and CEO of the combined company. Stuart Spence, current executive vice president and CFO of McDermott, will retain those titles with the combined company.
Patrick Mullen, president and CEO of CB&I, will remain with the combined company for a transition period.
The combination involves a series of transactions under Dutch law resulting in the sale of CB&I's entire business, as well as an exchange offer by McDermott in which CB&I's shareholders can tender their shares. Both the sale and the exchange offer will result in the same consideration for CB&I's shareholders.
The combined company has already secured around $6 billion of financing, led by Barclays, Credit Agricole CIB and Goldman Sachs & Co. LLC. It is expected that permanently funded debt financing in the form of term loans and unsecured bonds will be put into place prior to closing.
The transaction was approved by the Boards of both companies and is expected to be completed in the second quarter of 2018. It remains subject to regulatory antitrust approvals, approval by McDermott's and CB&I's shareholders and other customary closing conditions.