Innovative Exrail Linear Roller Guide from Nippon Bearing
Ken Thayer | December 15, 2017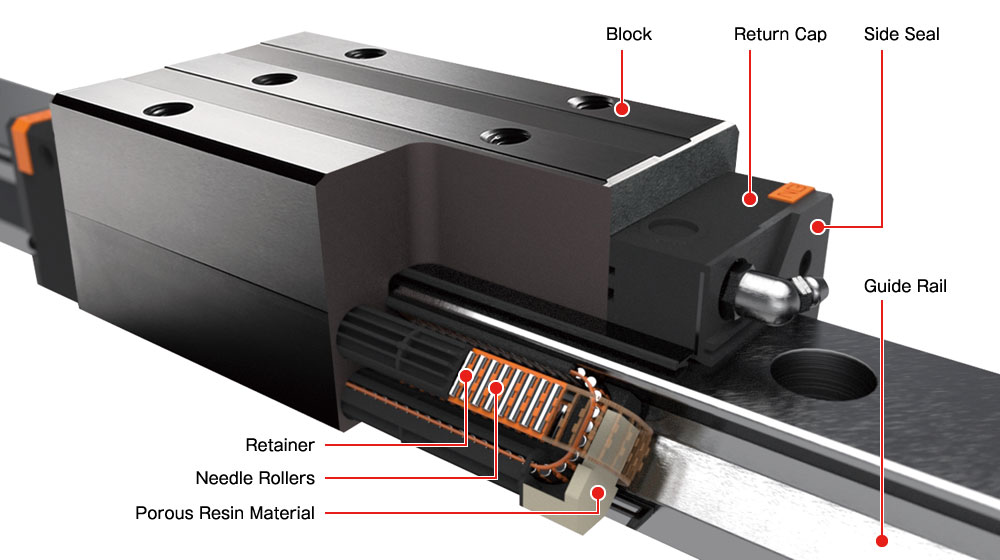 Innovative Exrail Linear Roller Guide from Nippon BearingLinear motion guides (LMG) are favored by machine tool manufactures for linear motion applications due to their low friction and high precision operation. While dovetail slides may have superior stiffness specifications, they are better suited for static operations due to stick-slip caused by friction.
Linear motion guides use a carriage with a recirculating set of balls or rollers. The rolling elements are self-contained in the carriage and use seals and grease to keep contaminants out. Linear motion guides with balls are more popular in the U.S. and Japan, while LMGs with rollers have become more popular in Europe. Early products with rollers exhibited high stiffness specifications, however, and suffered from issues that arose from the manner that the roller reentered the cage.
Nippon Bearing has developed the Exrail linear roller guide, an innovative linear motion guide that uses needle rollers as opposed to balls or rollers. Both rollers and needle rollers have higher load capacities than balls due to their increased surface area contact. Needle rollers have a larger length-to-diameter ratios than rollers. Utilizing needle rollers allowed Nippon Bearings to use more rolling elements in the limited space than would have been possible with other rollers, dispersing the load for each roller. This also reduces the elastic deformation to achieve higher rigidity.
A retainer with a resin film provides strength but also has the flexibility and ablation-resistance required. The end product is a rigid, accurate and high-precision linear motion guide with high damping capabilities.
For additional information, visit:
Nippon Bearing website: https://www.nbcorporation.com/
Exrail product information site: http://exrail.jp/en/index.html