When Qing-Chang Zhong, IEEE Fellow and a professor of energy and power engineering at the Illinois Institute of Technology, thinks of the words "democracy" and "harmony," he envisions the future of the electric power grid.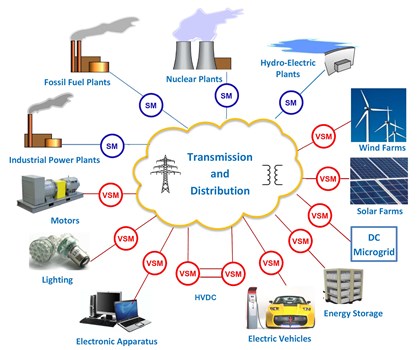 (Click to enlarge.) Concept diagram of Zhong's grid stability architecture. Source: Zhong/IITTo Zhong, the concept of who or what may generate electric power is in flux. The 20th century model of a monopoly utility that owns a uni-directional connection to a customer is vanishing. In its place is the 21st century paradigm that millions of users and their devices can consume or generate electricity as needed, democratizing the power grid.
Further, in Zhong's view, these devices either can wreak havoc through asynchronous and random interactions with the grid and one another, or can work together to support a more robust and secure power system.
Zhong credits his Chinese heritage and its 5,000 years of cultural history for shaping his view of grid stability.
"The most important thing in Chinese culture is to have harmony," the 47-year-old Zhong says, taking cues from the Chinese classic philosophical text Tao Te Ching. Mindful of the democratic concepts of the rule of law and equal treatment under the law, Zhong set out more than 15 years ago to discover what, if any, common trait might exist to make a smartphone and a nuclear power plant work in harmony for grid stability. (Read more.)