Recently, we reported on an opera in Rome, Italy, being performed on a set created by 3D printing. The creative team for 19th-century French opera "Fra Diavolo," which runs from Oct. 8 through Oct. 21 at the Teatro dell'Opera di Roma, turned to Italian 3D printer manufacturer WASP for help in producing the look they wanted for the set: deformed buildings within an altered perception of reality.
"The story of theatrical performance has always been a story of inventions and experimentation of techniques and materials," said the theater's superintendent, Carlo Fuortes, at a press conference earlier this week. "3D printing is already present in all design work… here, for the first time, thanks to WASP's commitment and work, it is employed to build the scenery of a lyric."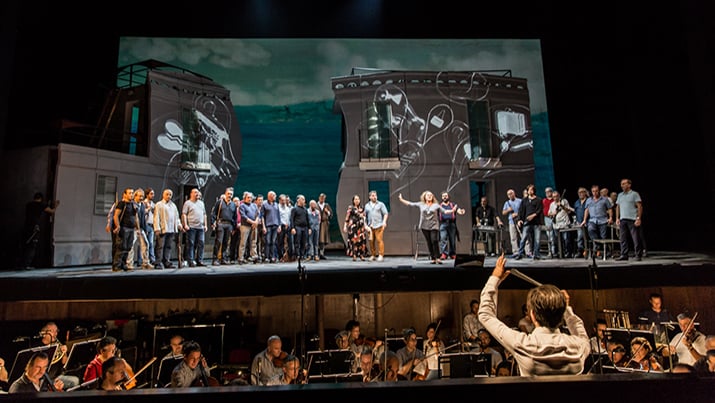 3D-printed set for the opera "Fra Diavolo." Image credit: Yasuko Kageyama.WASP founder Massimo Moretti added that the task was a challenge. "It had never happened that 3D printing was applied to such a large-size project," he said. "The plastic we normally use to print has a huge cost when used to produce the 1500 kilograms of the scenery. So we decided to turn to a cheaper material — one that, when the scenery will no longer be used, can be easily recycled, shredded and reused for a new and different work."
That material is white-colored PLA. The set was subdivided into 223 pieces in order to fit the print area of the DeltaWASP 3MT machines used to produce it. Five printers worked over a period of three months to meet the theater's deadline.
The production's director, Giorgio Barberio Corsetti, said that he always imagines theatrical representations to be "something that is talking about us." He describes the set's "unstable and crooked scenery" to be "as disturbing as a Dali picture." He added that the collaboration of the WASP team was fundamental to achieving what he called an "extraordinary result."
That result can now be seen in the photos we've received from WASP of the fully-realized set. "Extraordinary," indeed. Anyone got a couple extra plane tickets to Italy that they can't use?